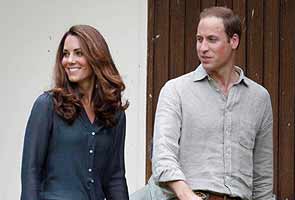 London:
Prince William visited his pregnant wife Kate in hospital on Tuesday where she was spending a second day being treated for acute morning sickness, as messages of congratulations poured in from around the world.
The announcement on Monday that the Duke and Duchess of Cambridge, both 30, are expecting their first child ended feverish speculation about a new royal heir that began immediately after their lavish wedding in April 2011.
The child will be third in line to the throne.
It will also be directly in line to become the monarch regardless of whether it is a girl or a boy, after a historic agreement among the 16 Commonwealth realms last year to end the practice of male primogeniture.
St James's Palace said Kate was still at the "very early stages" of pregnancy -- she is believed to be less than 12 weeks -- but it is thought the news was released because her admission to hospital would have made her condition public.
Kate has hyperemesis gravidarum, a very acute form of morning sickness which affects 3.5 in every 1,000 pregnant women.
Although it should not harm the baby if treated correctly, it can be highly unpleasant for the mother as it causes severe vomiting and carries a danger of dehydration and nutritional deficiencies.
William, the second in line to the throne after his father Prince Charles, was at his wife's bedside at the private King Edward VII Hospital in central London following her admission on Monday afternoon, before leaving at 8:20 pm.
He returned again on Tuesday at about 11:30 am (1130 GMT) although, like the night before, he did not acknowledge the waiting media outside.
Kate is expected to stay in hospital for several days and will then require a period of rest, a palace spokeswoman said, adding that her public engagements have been cancelled for the next week.
Officials said the couple only "recently" became aware that Kate was pregnant although there has been speculation for months, fuelled by images of the duchess sipping water instead of wine at official dinners.
She showed no sign of being ill at her most recent public engagement on Friday, when she displayed her hockey skills at her old primary school, wearing high-heeled boots and an Alexander McQueen tartan coat.
There was reportedly a rush to inform members of the royal family of the news before the public announcement, which came just after 4:00 pm (1600 GMT) on Monday.
Queen Elizabeth II, her husband Prince Philip, Charles -- for whom this is his first grandchild -- and his wife Camilla were said by the palace to be "delighted", as were Kate's parents, Carole and Michael Middleton.
William's brother Prince Harry, 28, who will be bumped down to fourth in the line of succession by the new arrival, was reportedly informed by email in Afghanistan, where he is deployed as an Apache attack helicopter pilot.
News of the pregnancy sparked huge excitement in the British press as well as feverish Internet speculation about what the child will be called and what it will look like, with numerous bizarre mock-up photographs being circulated.
Prime Minister David Cameron, who had his fourth child in 2010, led the congratulations by saying the royal couple would make "wonderful parents".
US President Barack Obama and his wife Michelle, who met William and Kate during a state visit to Britain last year, also sent their congratulations on the "welcome news", the White House said.
Australian Prime Minister Julia Gillard said the news "is going to bring joy to many around the world", while her New Zealand counterpart John Key said it was "fabulous".
New Zealand had led a push for Commonwealth realms to scrap centuries-old laws barring first-born daughters from inheriting the throne and the countries agreed to the reform last year at a meeting in the Australian city of Perth.
British Deputy Prime Minister Nick Clegg confirmed the government was putting "the finishing touches" to legislation enshrining the new rules of succession.
The Sun tabloid celebrated the news with the headline "Kate Expectations" while the Daily Mail ran the splash "A nation's joy, a husband's nerves".
Many commentators speculated on whether there may be two babies, because hyperemesis gravidarum is apparently more common in mothers carrying twins.