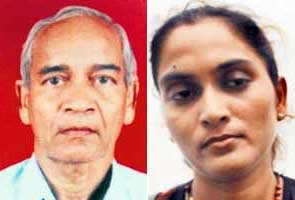 Mumbai:
73-yr-old Goan vanishes from his bed in wee hours at Kalyan's Tabor retreat centre, officials tight-lipped over disappearance
It has been a fortnight since Josephina Vales, who had come to Mumbai from Goa to spend a peaceful weekend at the Tabor ashram in Kalyan with her husband, saw him.
The Vales who had planned a quiet getaway to the retreat and prayer centre did not anticipate that only one of them would return home. Jose Vales has been missing since the night they arrived at Tabor.
On June 3, the Vales couple, along with their daughter-in-law, Zeensiya, arrived at Tabor with a 34-member group from Goa.
That fateful Friday, after the day's activities, they retired to their separate dorm rooms in the night. According to Zeensiya, around 4 am on June 4, Jose's dorm mate, Camille Pereira, who was part of the Goan group, woke up to find that the 73-year-old was missing from his bed.
"My mother-in-law bade him goodnight and they went to sleep in their respective dormitories. Later in the wee hours, around 4, Pereira discovered that my father-in-law was not in his bed. So he went and inquired with the security guards, who were not in their place," said Zeenisya.
"I last saw him around 10.30 pm on June 3," said Josephina.
When the Vales tried to approach the cops, the ashram dissuaded them. "We wanted to complain to the police. But the ashram people asked us to please wait until Sunday.
'We are sure he will come back,' they said. So we waited till Sunday. But as there was no sign of Jose, we finally lodged the complaint on June 5," said a kin of the Vales', Raphael Vaz.
After lodging the police complaint that Sunday, Jose's family left the ashram to stay with Vaz in his Mahim residence. They are currently putting up there.
"The irresponsibility of Tabor ashram staff has caused a woman to suffer without her husband in an unknown city," said one of the visitors from the Goan group, requesting anonymity. "On top of that, they asked us to wait to file a missing person's complaint."
While the ashram officials are mute over the incident, police officials agree that Jose went missing from Tabor, and registered a case.
"We are doing every possible thing to locate him. We have asked the railway police to look into the case as well.
The local police stations in the area have also been informed," said Assistant Police Inspector Narendra Patil of Kalyan Taluka police station.
Zeenisya said, "It has been more than 10 days and yet there is no response from the police officials. It seems like they are avoiding us."
The Vales had come to Mumbai on May 29, and were staying at the Tabor Bhavan until June 3, when they arrived at the ashram.
Now on the brink of giving up, they say they have no choice but to return to Goa without Jose. "There seems to be no development in the case. We'll be leaving for Goa next Monday. My children are alone back home," said Zeensiya.
When MiD DAY tried to get in touch with Tabor ashram's officials, no one was available for comment. But a staff member, refusing to be identified, said, "He never went missing from our ashram. All of this is a lie."