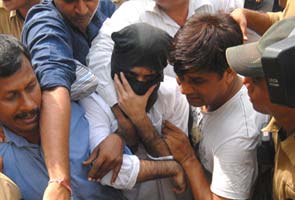 Mumbai:
The Mumbai Police is likely to file a supplementary chargesheet against alleged 26/11 terrorist Zabiuddin Ansari alias Abu Jundal in the 2008 Mumbai terror attacks case.
Jundal, along with Lashkar chief Zaki-ur Rehman Lakhvi and other accused, was allegedly present in the Karachi-based "control room", monitoring the terror strike. The police claims, Jundal is one of the six 26/11 handlers and taught Hindi to the ten terrorists who took a boat from Pakistan to Mumbai to execute the attack. They say he also familiarised them with the landscape of the city. The three-day-long terror attack had claimed 166 lives.
The supplementary chargesheet that runs over 3000 pages includes details of his role in hatching the deadly plot. The chargesheet also includes the confrontation between Kasab, who is the lone surviving terrorist in the 26/11 case, and Jundal. According to police sources, Kasab identified Jundal as a handler and Jundal identified Kasab as one of the ten men who was deputed to execute the plan that had been engineered by Zaki-ur-Rehman Lakhvi, Jamaat-ud-Dawa head Hafiz Saeed, and others.
In August this year Jundal had recorded a confessional statement under section 164 of the Code of Criminal Procedure (CrPC). He had also told investigators that LeT has plans to launch an air attack on India and is training paragliders. Jundal said he himself had seen over 150 boxes of paragliding suits in the 'Jumbo Jet Room' designed exclusively to chalk out attacks on Indian cities.
Jundal was deported from Saudi Arabia where he was hiding in June and was arrested upon his arrival at the Indira Gandhi International airport in Delhi. He was one of India's most-wanted and is also linked to the Aurangabad arms haul case of 2006, in which Maharashtra ATS recovered 43 kg of the explosive RDX. But police didn't know till Jundal's arrest in Delhi that Jundal was the same man -- Syed Zabiuddin Ansari -- that they were looking for. Jundal had escaped from India after the Aurangabad incident and was a key member of terror group LeT. He is currently in the National Investigation Agency's custody.
Last month, the Delhi police had filed a chargesheet against Jundal which said that during interrogation, Jundal disclosed that he is a member of the terror outfit Lashkar-e-Taiba (LeT) and knew all leaders of Indian Mujahiddin and motivated some members for jihad. He was also charged with having a forged passport, fake Indian currency and criminal conspiracy.
India has said Jundal's information, shared first with interrogators in Delhi, confirms its repeated allegations that the 26/11 attacks were facilitated by state support in Pakistan. Islamabad has steadfastly refuted the charges.