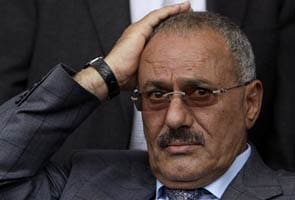 Sanaa, Yemen:
Yemeni President Ali Abdullah Saleh was wounded when opposition tribesmen determined to topple him hammered his palace with rockets on Friday in a major escalation of nearly two weeks of fighting with government forces. Seven guards were killed and eight senior figures from Saleh's regime were wounded.
The attack was a stunning hit on Saleh's leadership, striking a mosque in the palace compound where the president and top officials were praying. Saleh was taken to a Defense Ministry hospital, and the extent of his injuries was not clear.
After the attack, officials promised repeatedly that Saleh would appear to the public soon, but eight hours later, government TV aired only an audio message from the president, speaking over an old still photo of him.
"If you are well, I am well," Saleh said in the brief message, addressing Yemenis. He spoke in a labored voice, his breathing at times heavy. He blamed the rocket attack on "this armed gang of outlaws," referring to the tribal fighters, and called on "all sons of the military around the country to confront" them.
One official said Saleh had slight neck injuries. The official spoke on condition of anonymity because he was not authorized to talk to the news media. Deputy Information Minister Abdu al-Janadi spoke only of "scratches on his face."
"There is nothing affecting the president's health," al-Janadi said.
It was the first time that tribal fighters have directly targeted Saleh's palace in fighting that has rocked the capital since May 23. The violence comes as nearly four months of protests have failed to oust Yemen's leader of 33 years.
The White House condemned the violence and called on all sides to stop fighting.
"Violence cannot resolve the issues that confront Yemen, and today's events cannot be a justification for a new round of fighting," said a statement from the White House.
On Friday, a volley of at least three rockets hit in and around Saleh's presidential compound. One struck a mosque in the compound where Saleh and senior officials were praying, a presidential statement read on government TV said. In his audio message, Saleh said seven of his guards were killed, including the chief of his bodyguard contingent.
The blast wounded many of Saleh's top advisers.