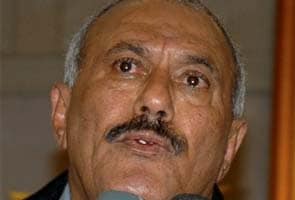 Sanaa:
Yemen's embattled president agreed today to a proposal by Gulf Arab mediators to step down within 30 days and hand power to his deputy in exchange for immunity from prosecution, a major about-face for the autocratic leader who has ruled for 32 years.
The protest movement demanding President Ali Abdullah Saleh's immediate departure said today that it also accepted the latest draft of the deal but with reservations.
A day earlier, protesters staged the largest of two months of demonstrations, filling a five-lane boulevard across the capital with a sea of hundreds of thousands of people. A deadly crackdown by government forces and Saleh supporters has killed more than 130 people and prompted key allies to abandon the president and join the protesters.
The six-nation Gulf Cooperation Council, which includes powerful Saudi Arabia, has been seeking to broker an end to the crisis in the fragile and impoverished nation on the southern edge of the Arabian peninsula.
The opposition movement, fed up with poverty and corruption under Saleh, said they object to an article in the GCC draft that gives parliament, which is dominated by Saleh's party, the right to reject the president's resignation.
State TV reported that Yemen's foreign minister delivered the government's acceptance to mediators on today. Protests continued today and expanded to include a general strike.
Schools, government offices and private companies shut their doors in response to the Yemeni opposition's call for a strike aimed at putting more pressure Saleh to step down.
Thousands of protesters kept up sit-ins at city squares in at least five provinces, while Saleh accused the opposition of "dragging the country into a civil war" in a televised speech to a military academy.
Saleh has over the past two months used violence to try to quell the unrest. He has also offered concessions, including a pledge not to run again for president when his term is up in 2013 or allow his son to succeed him, but to no avail.