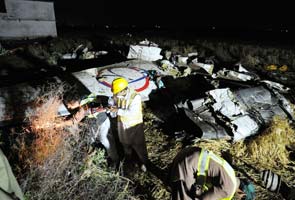 Islamabad:
World air crash timeline:
Here is a list of worst air crashes worldwide over the past five years:
-
April 20, 2012: PAKISTAN
- A passenger jet crashed in Islamabad, killing all 127 on board. The Bhoja Air plane was on a flight from Karachi to Islamabad.
-
July 28, 2010: PAKISTAN
- All 152 people aboard a Pakistani Airbus A321 are killed when the aircraft crashes into a hillside outside Islamabad as it comes in to land in wet and cloudy conditions.
-
May 22, 2010: INDIA
- An Air India Boeing 737 crashes on landing in the southern Indian city of Mangalore, killing all 158 aboard.
-
May 12, 2010: LIBYA
- 103 people die when a Libyan Airbus A330 plane carrying tourists from southern Africa crashes on landing in Tripoli. An eight-year-old Dutch boy is the sole survivor.
-
July 15, 2009: IRAN
- An Iranian Tupolev-154 passenger jet crashes on a flight between the Armenian capital Yerevan and Tehran, killing 168 people.
-
June 30, 2009: COMOROS
- A Yemeni Airbus A310 jet carrying 153 people crashes while coming in to land in the Comoros islands. A 12-year-old girl is the only survivor.
-
June 1, 2009: BRAZIL
- An Air France Airbus A330 is lost over the Atlantic Ocean on its way from Rio de Janeiro to Paris, killing all 228 people on board.
-
Aug 20, 2008: SPAIN
- A Spanair MD-82 aircraft bursts into flames while taking off from Madrid airport, killing 154 people.
-
July 18, 2007: BRAZIL
- An Airbus A320 belonging to TAM airline crashes into a freight warehouse occupied by several workers as it tries to land at San Paulo airport with 187 people aboard, killing 199 people.
-
May 5, 2007: CAMEROON
: A Kenya Airways Boeing 737-800 plane carrying 114 people crashes after take-off from Douala Airport. There are no survivors.
The most deadly plane accidents in history remain the collision on March 27, 1977, between two Boeing 747s at Tenerife in the Canary Islands, in which 583 are killed; and the crash on August 12, 1985 of a Boeing 747 belonging to Japan Airlines flying between Tokyo and Osaka when 520 were killed.