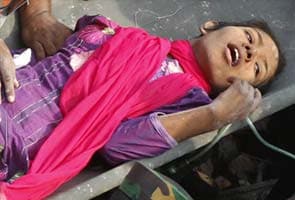 Dhaka, Bangladesh:
In a startling development, a woman trapped for 17 days beneath the rubble of the collapsed Rana Plaza building was discovered alive Friday and then rushed to a nearby military hospital after rescuers pulled her free.
The woman, whose name is Reshma, had apparently been in the basement of the collapsed building, though her location is not yet definitively known. Rescuers, speaking on live national television from the wreckage site, said they were clearing debris Friday afternoon when they saw a pipe moving. It turned out to be Reshma, shaking the pipe from below, trying to gain attention.
"Save me!" rescuers say they heard her shouting.
Her rescue was broadcast on television across Bangladesh. A garment worker, Reshma was wearing a purple and red salwar kamiz as she was removed from the rubble. One of the rescuers, a soldier with the Bangladeshi army, told television crews that Reshma had discovered food and water that had lasted until two days ago.
"When we first spoke to her, she wanted some food and water," the soldier said.
Ali Ahmed Khan, Bangladesh Fire Service director general, noted that Reshma was apparently inside a Muslim prayer room in the building, which had oxygen and enough clear space for her to stand up.
Prime Minister Sheikh Hasina was rushing to the military hospital where Reshma is being treated.
The stunning discovery of a survivor transformed what had been an especially gloomy day in the recovery effort, as the death toll pushed past 1,000 victims. Five clothing factories operated inside the Rana Plaza building and more than 3,000 people were believed to be working when the structure collapsed on the morning of April 24. It is now considered the worst disaster in the history of the garment industry.
Days earlier, rescuers had given up any hope of finding more survivors and had started using heavy machinery to more quickly clear debris from the site. Before Friday, the last survivor was thought to have been a woman named Shaheena; rescuers spent more than 20 hours on April 28 trying to save Shaheena before a fire broke out, and she died.
Khan, the fire service director general, said work crews would "for the time being" suspend the use of heavy machinery and resume rescue searches in the remaining rubble.
"We are very delighted," said Khan, noting that rescuers had taken pains to work carefully in case someone was still alive. "The army and fire service has been working very, very cautiously."
© 2013, The New York Times News Service