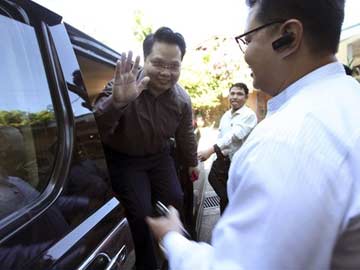 Yangon, Myanmar:
Myanmar released 69 political prisoners on Friday in an amnesty the government described as an act of "loving kindness" in line with President Thein Sein's promise to free all prisoners of conscience by year-end.
The amnesty was one of at least a dozen the reformist, quasi-civilian government has granted since taking over in March 2011 from a military leadership.
It also cuts by almost half the number of prisoners that non-governmental group the Assistance Association for Political Prisoners in Myanmar (AAPP) estimates were held in Myanmar.
A statement from Thein Sein's office said the amnesty was decided to enable prisoners to "contribute in nation-building after realising the loving kindness and goodwill of the state".
A panel appointed by Thein Sein is also working to release all political prisoners jailed by the junta by year-end, the statement added.
Ko Talkie of the AAPP told Reuters the freed prisoners included Aye Ne Win and Kyaw Ne Win, grandsons of former dictator and General Ne Win, who seized power in a 1962 coup and ruled until 1988, when he was deposed by other generals.
Aye Ne Win and Kyaw Ne Win were imprisoned in 2002 for attempting to overthrow the junta along with Sayalay Aung Pwint Khaung, a sorcerer accused of performing black magic rituals to ensure the coup's success.
Sayalay Aung Pwint Khaung was among those released on Friday, said a prison official who spoke on condition of anonymity.
Naw Ohn Hla, a well-known activist, was also freed, said Ko Talkie. She was jailed earlier this year for leading protests against the Letpadaung copper mine near Monywa, 760 km (472 miles) north of the commercial capital Yangon.
Earlier, Nyan Win, a member of the state-appointed panel said the list of those still in detention had been obtained from different sources "so we have to check if they are real political prisoners or not".
Nyan Win is a senior aide to National League for Democracy (NLD) party leader and veteran democracy advocate Aung San Suu Kyi, who was detained, mostly under house arrest, for 15 years. The NLD estimates about 80 political prisoners are still incarcerated, Nyan Win said.
PLEDGE TO FREE PRISONERS
Thein Sein, a former general and heavyweight in the army regime, had pledged during a visit to Britain in July that he would free all political prisoners by the end of this year.
Friday's release, like many of the amnesties that have been announced in the past two years, coincided with the visit of a high-profile foreign delegation, this time, the European Union.
The EU, United States and other Western countries have increased aid and investment and suspended most sanctions, partly in response to Myanmar freeing of hundreds of political prisoners and other liberal reforms unimaginable under the juntas that ruled for 49 unbroken years.
During the military's final years in power, as many as 2,500 people, including activists, journalists, politicians and even comedians, were under detention. Many were subjected to torture.
Rights activists and the United Nations say the Myanmar government needs to end all political detentions. According to AAPP research, some 230 people still face charges over their political activities.
"We continue to receive reports of peaceful activists and human rights defenders being harassed and at risk of imprisonment for nothing but expressing their opinion," Amnesty International said in a statement following Friday's release.
"This has to end immediately otherwise releases like the one today will be meaningless."
© Thomson Reuters 2013
Get Breaking news, live coverage, and Latest News from India and around the world on NDTV.com. Catch all the Live TV action on NDTV 24x7 and NDTV India. Like us on Facebook or follow us on Twitter and Instagram for latest news and live news updates.