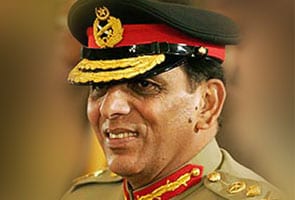 New Delhi:
A cable sent to Washington by then US Ambassador Anne Patterson paints a short, interesting profile of Pakistan's Army chief General Ashfaq Kayani.
Patterson sent this cable in February 2009 to set the stage for General Kayani's visit to the US in the same month.
The cable says: "General Ashfaq Kayani was born in Punjab in 1952, grew up in a working-class family and is the son of a former junior officer. He was commissioned in the Pakistan Army after graduating from the Pakistan Military Academy in 1971. His long career has included command at every level from Company to Corps.
"He has served in key staff positions, to include Military Assistant to the Prime Minister under Benazir Bhutto from 1988-1990, Director General of Military Operations (DGMO), 2000-2003, Director General, Inter Services Intelligence (ISI) from 2004-2007, and Vice Chief of Army Staff in 2007.
"In November 2007, he became Chief of Army Staff (COAS). He is the only officer ever to have served as both DG-ISI and COAS. His term as DGMO coincided with the intense military standoff with India of 2001-2002.
"In interactions with post, Kayani is often direct, frank, and thoughtful. He has fond memories of his IMET training at Fort Leavenworth and values his personal relationships, particularly with US military leaders. Kayani is married and the father of two children, a son and a daughter.
"An avid golfer, he is President of the Pakistan Golf Association.
"He smokes heavily and can be difficult to understand as he tends to mumble."
(As part of a special arrangement that NDTV has come to with WikiLeaks, we will be reporting on cables dispatched by American diplomats who were posted in Pakistan. We shall do this along with the DAWN of Pakistan and the Indian daily The Hindu. All the cables will be posted on NDTV.com as we report on them and can be read here.)