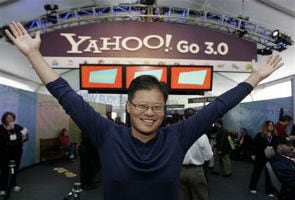 San Francisco:
Jerry Yang built Yahoo! into an online colossus but the co-founder of the Internet pioneer has become a lightning rod for investor criticism of the recent management of the company.
Yang resigned on Tuesday from the Yahoo! board of directors and all of his other positions at the company he founded nearly 17 years ago, saying the time has come for him to "pursue other interests."
Born in Taiwan on November 6, 1968, Yang moved to the United States with his family when he was around 10 years old and was raised in San Jose, California.
While studying electrical engineering at Stanford University in California, Yang and a classmate, David Filo, created a directory for websites in their spare time called "Jerry's Guide to the World Wide Web."
They founded Internet portal Yahoo! in 1995 and Yang became one of the original Silicon Valley dotcom billionaires the following year when the Sunnyvale, California-based company went public.
Yahoo! survived the bursting of the dotcom bubble five years later and despite its recent struggles has remained one of the most popular sites on the Web, drawing millions of users a day as a gateway to the Internet.
However, despite its strong content and popular websites, Yahoo! has been losing online advertising business to search giant Google, social networking king Facebook and specialized websites.
Yang served as chief executive of Yahoo! from June 2007 to January 2009, during which time he notably turned down a $33-a-share offer by Microsoft for Yahoo! worth a total of more than $47 billion.
The rejection of the Microsoft bid earned Yang the ire of many shareholders and accusations that he was putting his personal affection for the company he created over the interests of investors.
Yahoo! shares rose more than 3.5 percent to $15.99 in after-hours trading following Tuesday's announcement that Yang was stepping down from the board of Yahoo! and from the boards of Yahoo! Japan and Alibaba Group Holding Ltd.
In a letter to Roy Bostock, the chairman of the Yahoo! board, Yang said "my time at Yahoo!, from its founding to the present, has encompassed some of the most exciting and rewarding experiences of my life. However, the time has come for me to pursue other interests outside of Yahoo!"
Bostock described Yang as a "visionary and a pioneer, who has contributed enormously to Yahoo! during his many years of service.
"He has always remained focused on the best interests of Yahoo!'s stakeholders, including shareholders, employees and more than 700 million users," he said.
"And while I and the entire board respect his decision, we will miss his remarkable perspective, vision and wise counsel," Bostock said.
Scott Thompson, who was named Yahoo!'s chief executive nearly two weeks ago, replacing Carol Bartz, who was fired in September, said Yang "leaves behind a legacy of innovation and customer focus for this iconic brand.
Since Bartz's departure in September, Yahoo!'s board has reportedly been looking at selling all or part of the company and Yang was seen by some shareholders as a fierce opponent of a breakup.
According to Forbes magazine, Yang is the 938th richest person in the world with a fortune estimated at $1.1 billion. He still owns around 3.6 percent of Yahoo!'s shares.