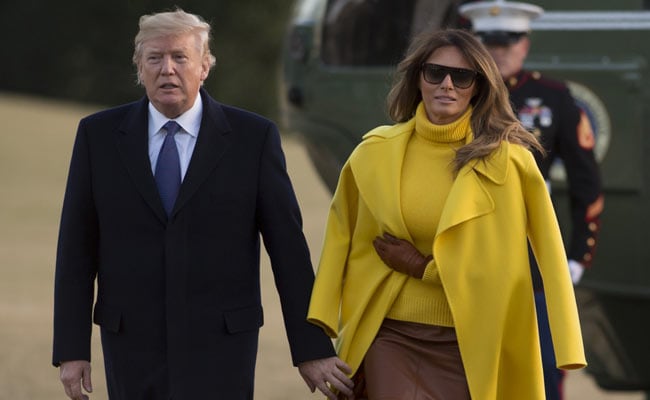 Several readers asked about the immigration status of Melania Trump's parents, Viktor and Amalija Knavs, after spotting social media posts that made claims such as this:
"Here are Melania's Parents. Viktor and Amalija Knavs. They live in the United States Permanently now because of Chain Migration after Melania's Visa Expired & she stayed here Illegally and married Donnie for Citizenship. None of them have a degree or a job."
In the context of congressional debate over overhauling immigration laws, it's certainly an interesting question. President Donald Trump has favored bills that would severely restrict "chain migration," including the granting of immigration visas to the parents of U.S. citizens. So naturally, readers have wondered whether the president is being hypocritical.
Let's see what we can find out.
The Facts
First of all, we should note that this particular tweet falsely claims that Melania Trump, who is a native of Slovenia and married Donald Trump in 2005, stayed in the United States illegally after her visa expired and that she married Trump only to obtain citizenship.
There is no evidence that is the case. In September 2016, she released a letter from an immigration attorney stating that she did not receive a green card through marriage.
"Rather, in 2000, Mrs. Trump self-sponsored herself for a green card as a model of 'extraordinary ability,' and on March 19, 2001, she was admitted to the United States as a lawful permanent resident," wrote Michael Wildes, the attorney. "Based on this timeline, Mrs. Trump became eligible for citizenship in 2006, after five years of continuous permanent residence."
Still, a few days before the election in November, an Associated Press investigation revealed she was "paid for 10 modeling jobs in the United States worth $20,056 that occurred in the seven weeks before she had legal permission to work in the country, according to detailed accounting ledgers, contracts and related documents." Her visa at the time allowed her to be in the United States and look for work but not perform paid work.
Wildes told the AP that "these documents, which have not been verified, do not reflect our records including corresponding passport stamps" but would not say anything more. The Trump campaign refused to comment. The article noted that "it is highly unlikely that the discovery will affect the citizenship status of Mrs. Trump."
As for her parents, Viktor Knavs is a former member of the Yugoslav Communist Party who worked as the chauffeur for the mayor of his hometown, Sevnica, and eventually became a successful car salesman. He was born in 1944, making him two years older than the president. Amalija Knavs was a pattern maker at a textile factory. They are now said to be retired.
According to various news reports, the Knavses have been living in the United States at least a year and probably much longer - possibly since the mid-2000s. Since Melania Trump moved into the White House, some reports have suggested they live there. Other reports have said they split their time between the District of Columbia area, Mar-a-Lago, Trump Tower and Bedminster, New Jersey. They apparently help take care of Barron Trump, the president's 11-year-old child.
"The hyperinvolved Slovenian grandparents currently live with their daughter and grandson in the Trump Tower penthouse and spend most weekends with the Trumps at Mar-a-Lago, or at the Trump National Golf Club in Bedminster, New Jersey," Politico reported in June.
The White House initially refused to comment on their immigration status. "I don't comment on her parents, as they live private lives and are not part of the administration," said Stephanie Grisham, spokeswoman for the first lady.
Here are the possible options, according to immigration experts.
Legal permanent residence:
They could be here on an IR-5 visa, meaning they are legal permanent residents because they are the parents of a U.S. citizen. Kevin Johnson, dean of the University of California at Davis Law School, believes this is the most likely option, even though the administration's immigration proposal would limit family visas to spouses and minor children of U.S. citizens and lawful permanent residents, ending "extended-family chain migration."
"If I were advising Trump, Melania's parents would be admitted as immigrants as the immediate relative of a United States citizen if they were planning on moving here permanently, especially given the fact that there is talk to eliminate this basis for immigration," said Matthew Kolken, a Buffalo immigration attorney.
Extended tourist visa:
Of course, using an immigration path that the president wants to eliminate would be politically explosive. So the easiest explanation could be that they are here on tourism visas and have asked for extensions. Generally, a tourist visa is given for about six months, and can be extended for up to a year.
"That's pretty common," said Sarah Pierce, an immigration policy analyst at the Migration Policy Institute. "It is way more feasible or likely that they would use tourism visas." She noted that data from the U.S. Citizenship and Immigration Services shows the approval rate for the I-539 form (which extends status for all types of non-immigrant visas, not just tourists) is 86 percent.
This would be a relatively simple explanation, which makes it curious why the White House would not confirm it if this is indeed the case.
However, another immigration attorney cast doubt on this theory.
"Anyone here as a tourist cannot legally be helping to take care of grandchildren. Government considers that working in the U.S., and tourists are not authorized to work," she said, asking not to be identified. "Many grandparents have been denied visitor visas because they innocently say they will be helping with the new baby - when they are really thinking about just visiting with their child and grandchild."
Parole:
Individuals who are outside the United States may be able to request parole into the United States based on humanitarian or significant public benefit reasons. There is no statutory or regulatory definition of significant public benefit. "Parole based on significant public benefit includes, but is not limited to, law enforcement and national security reasons or foreign or domestic policy considerations," USCIS says. "We exercise our discretion on a case-by-case basis."
Their parole may be extended at the discretion of the Homeland Security Department and would also permit them to adjust their status inside the country if Melania Trump intends to petition for them.
"I would guess that the first lady's parents were paroled into the United States and did not have to apply for a visa," Kolken said. "Parole can be extended by the [Homeland Security] Department, or the period of parole could be for a lengthy period of time. If my parents are looking to move to the U.S., and if I were president, I would have them paroled and then file an I-130/485 and get them green cards."
Student (F-1) visa:
This is the least likely possibility, but we thought we would mention it. An international student can remain in the country for as long as they go to school. In the case of the Knavses, for instance, they could attend a program to learn English as a second language. But they would be in violation of this visa if they provided child care.
When we presented this list to Grisham, she responded: "None of those options apply." She then would no longer respond to additional queries.
Two of these possibilities are politically troubling for the White House, while two are relatively benign. Frankly, the most logical possibility is that the Knavses have received legal permanent residence because they are parents of a U.S. citizen - and they may have had this status for years. For the president's policy preferences, that's also the most problematic option.
As we noted, we gave Grisham, the first lady's spokeswoman, ample opportunity to explain the immigration status of the Knavses. It's a mystery why the White House refuses to answer such a simple question, given the president's high-profile demand to limit immigration.
(This story has not been edited by NDTV staff and is auto-generated from a syndicated feed.)