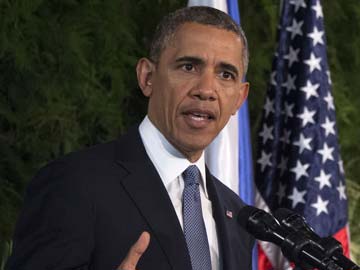 Washington:
A grassroots revolution in Virginia did not just topple Republican Party chieftain Eric Cantor.
Tuesday's political earthquake also likely doomed US President Barack Obama's hopes of a sole significant second term domestic legislative triumph - immigration reform.
The stunning primary defeat of Cantor, the House Republican Majority leader, by a hero of the radical conservative Tea Party faction ranked as one of the biggest electoral upsets in decades.
A shocked Washington was only beginning to game out the political implications on Wednesday.
Unknown university professor Dave Brat successfully branded Cantor a supporter of "amnesty" for illegal immigrants - despite the fact he only favored lukewarm reform - energizing the tiny but motivated conservative primary electorate in Virginia's 7th district.
Any wavering Republican toying with a vote to offer a path to citizenship to 12 million illegal immigrants will surely now balk at sticking their neck out after one of the most powerful men in Washington was felled by the issue.
"This shows there is no chance of getting anything done legislatively on the subject through the summer, after which it would be difficult to get anything done with presidential speculation beginning," said Cesar Vargas of the Dream Action Coalition, a pro-reform group.
Immigration does not tell the whole story of Cantor's demise - but the perception that it did him in may be enough.
Brat told MSNBC he ran on a strong defense, fiscal discipline and faith in God.
"Eric has just not been present in the district. I was door knocking and know what is on the mind of the folks," Brat said.
One damning report testifying to Cantor's distance from his grass roots suggested his campaign spent more in steakhouses than Brat's campaign spent in total.
Some immigration reform advocates also suggested that Cantor's problem was that he did not lead on the issue and so was consumed by it.
Democratic Senator Chuck Schumer said the Cantor strategy of playing both sides of the issue "is a path to defeat."
Fretful Republicans are however unlikely to take political advice from a liberal Democrat.
Busted hopes
Busted hopes of reform are not just bad news for Obama, who needs to get a bill, that has passed the Senate, through the Republican House to flesh out a thin second term.
In recent presidential elections, Republicans have slumped among Hispanic voters - for whom immigration reform is a cause celebre.
Many political professionals believe the party will never recapture the White House without repairing ties to the fast-growing community.
In 2012, Obama beat Republican Mitt Romney by 71 percent to 27 percent among Hispanics, who made the difference in some key swing states.
But the recent political lesson is that any Republican who touches immigration reform is burned - Texas governor Rick Perry stumbled on the issue and saw his presidential campaign crumble in 2012.
A possible Republican presidential candidate in 2016, Senator Marco Rubio, has struggled to rebuild his fortunes after championing Senate immigration reform last year.
There was no immediate reaction from Obama to seeing one of his most sworn foes toppled - though such was the distaste for Cantor in the White House, there was likely private glee.
The most pressing problem for the president was that the upset was already piling pressure on him to use his executive powers to reshape immigration laws himself.
Frank Sharry, of America's Voice, a pro-immigration group, said that if Republicans declared "immigration dead .... then we will turn to a president who has the authority to take executive action."
Obama has protested to supporters angry at the high rate of deportations that he simply cannot rewrite the law.
But activists say he could change the balance of who is thrown out - putting people who are not criminals at the bottom of the list.
So far, he has held off from unilateral moves, to give House Republican Speaker John Boehner a chance to navigate the narrow path through his support base for a vote on reform.
He may also fear an explosive response which could even jeopardize hopes of reform in future presidencies.
Acting on immigration enforcement would likely dwarf the firestorms over Obama's swap of Taliban prisoners for US soldier Bowe Bergdahl and his unilateral new rules on fossil fuel emissions - both of which bypassed Congress.
Republican leaders - many of whom recognize that their party risks being relegated to a regional force that can win congressional elections but not presidential votes - were also left with a strategic headache on Wednesday as they eye 2016.
"If the House GOP declares immigration is dead, then so is the GOP as a national party. The growing number of Latino, Asian American and immigrant voters will make sure of it," Sharry said.