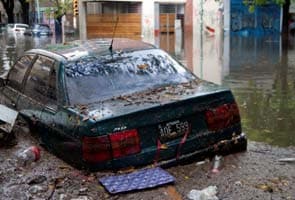 Buenos Aires:
At least eight people died after torrential rain and strong winds battered Buenos Aires and its suburbs, knocking out power, downing trees and affecting 350,000 residents, officials said on Tuesday.
More than six inches (155 mm) of rain fell between midnight Monday and 7 am Tuesday, the city weather service said, setting an April record for the Argentine capital.
One of the dead was a subway worker electrocuted while trying to pump water out of a flooded station, union official Enrique Rosito said.
Other victims included three men and two women killed in flooding and other damage caused by the storm, said Alberto Crescenti of the emergency medical service SAME.
Federal police reported two more fatalities.
Some 350,000 people were impacted by the deluge, Mayor Mauricio Macri told a televised news conference.
Flash flooding was worst in northern parts of the city, where widespread construction over the past decade has not been matched by upgrades to the drainage system, environmentalists said.
It was here that about 300 people were evacuated from a slum, Macri said.
The storm and flooding knocked out electricity, sent cars floating down streets, damaged poorly built homes, knocked out power and forced suspension of train service.
About 14 million people live in Buenos Aires and surrounding areas.
A weather alert remains in effect for the metropolitan area through Thursday.