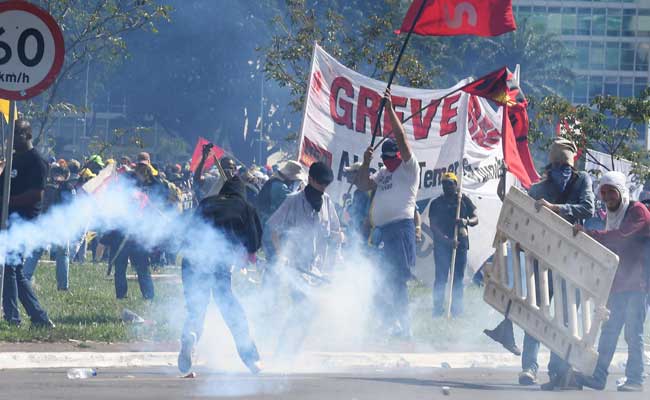 Braslia:
Police fired tear gas and stun grenades Wednesday in confrontations with a crowd of at least 25,000 marching on Brazil's presidential palace to demand the resignation of embattled President Michel Temer and an end to austerity reforms.
Organized by leftist groups and trade unions, the protesters poured into the center of Brazil's capital and advanced on the Planalto presidential palace.
Police stopped them from approaching further with a barrage of gas, while some protesters threw stones back and brandished sticks.
"Out with Temer," the crowd chanted.
Brazil's left is smelling blood just over a year since Michel Temer took over from Workers' Party president Dilma Rousseff after she was impeached for illegally manipulating government accounts.
Temer, from the center-right PMDB party, is reeling from a probe into his alleged corruption and opponents say he could soon be removed from power. The future of his market-friendly reforms package -- especially cuts in the country's generous but unaffordable pension system -- is equally unclear.
"It's the end of this putchist government. That's why the people have taken to the streets," said Francisca Gomes, 59, who came from Sao Paulo for the protest and carried a funeral ribbon carrying the image of the president and the words: "RIP Temer."
Brasilia's security service said that 500 buses had converged on the capital, with some 25,000 protesters. Organizers claimed there were far more, but an independent estimate was not immediately possible.
The protest began peacefully but clashes erupted almost as soon as the crowd got close to the government complex, where large numbers of riot police hiding behind black shields and others on horseback stood in reserve.
Driven back, the protesters spread out, with some throwing stones against ministry buildings.
"Damned government," a man said as he retreated, with eyes streaming from the effects of the tear gas.
"In a democracy, no government can resist when the people take to the streets," said Dorival Pereira, 60, who had traveled 18 hours from Mato Grosso do Sul to be at the protest.
Like many demonstrators, she wore a T-shirt with the slogan "Elections now!"
'Temer will fall'
Temer says the austerity reforms are already working and that more measures, especially pension reform, are needed. Latin America's biggest economy has been stuck in deep recession for two years and is just now showing the first signs of returning to growth, although unemployment is at nearly 14 percent.
However, Temer has been fighting for his political life since last week after allegations that he attempted to pay hush money to a jailed politician and was involved in bribery.
The scandal follows a landslide of other corruption allegations against much of Temer's government and Congress in a huge probe known as "Operation Car Wash."
For now, the president is trying to shore up his congressional alliance to resist calls for his impeachment. He has said he did nothing wrong and will not resign.
But analysts say that intense negotiations are going on behind the scenes to find the least traumatic way possible for Temer to be eased out.
Because he has no vice president, the constitution would require a 30-day period led by the speaker of the lower house, followed by an indirect election in which Congress picks a new president to rule until after scheduled elections in October 2018.
Congress is riddled with its own corruption scandals, however, and popular sentiment is growing in favor of moving up the presidential election -- which would require Congress to approve a constitutional amendment.
"Temer will fall. Everyone says this is government is dead," Senator Gleisi Hoffman, from the Workers' Party, told AFP. Gleisi said the left was "making it clear that our option is for a direct election."
But Mauro Pereira, a pro-government deputy from the PMDB, said Temer wasn't going anywhere. "We're not discussing the president's possible exit. Deputies understand what would happen and the concern that there is for the Brazilian economy," he said.