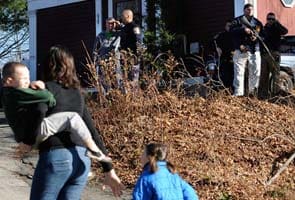 Washington:
A law enforcement official says the suspect in the Connecticut school shootings is 24-year-old Ryan Lanza and that his younger brother is being held for questioning as a possible second shooter. The law enforcement official says the boys' mother, Nancy Lanza, works at the school as a teacher.
The official also said Ryan Lanza's girlfriend and another friend are missing in New Jersey.
Speaking on condition of anonymity, the official said the suspect is dead from a self-inflicted gunshot wound.
The official spoke on the condition of anonymity because the source was not authorized to speak on the record about the developing criminal investigation.