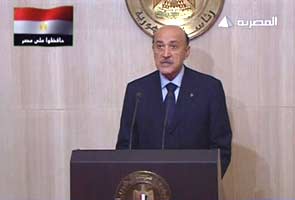 Washington:
US has termed as "unhelpful" comments by Egyptian Vice President Omar Suleiman that Cairo was not yet ready for democracy and it was not the opportune moment to lift the 30-year-old emergency laws.
"Vice President Suleiman made some particularly unhelpful comments about Egypt not being ready for democracy, about not seeing a lift of the emergency law. I don't think that in any way squares with what those seeking greater opportunity and freedom think is a timetable for progress," White House Press Secretary Robert Gibbs told reporters at his daily news conference.
Gibbs was responding to question on the statement made by Suleiman a day earlier wherein he asserted that there was no need for the Egyptian President, Hosni Mubarak, to resign and that he does not think that it was time to lift the 30-year-old emergency law and that Egypt was not yet ready for democracy.
"The notion that Egypt isn't ready for democracy I think runs quite counter to what we see happening in Tahrir Square and on the streets in cities throughout the country. It's clear that statements like that are not going to be met with any agreement by the people of Egypt because they don't address the very legitimate grievances that we've seen expressed as a result of these protests," he said.
Gibbs asserted that the pace and scope of progress has to be determined by the people of the country and not the United States.
"I think that's going to be determined by the Egyptian people. Whether or not the government is taking those concrete steps can't be arbitrated by us. We can't do play-by-play on each and every step that they take. That's going to be determined by the reaction in Cairo and throughout Egypt by the people of Egypt," he said.
"We have a stake in stability in Egypt, in regional stability. I think that's been a cornerstone of what we've seen over the past three decades. As I said here on Friday, and I think as you've heard the President say, the threat of instability - and you see this again today with the swelling crowds - is in not making that progress, and in not letting the people in Egypt see that the steps that are being taken along that process are real, it's something that they can feel."
"It's something that will end in free and fair elections based on a discussion that is had with a broad range of Egyptian society," Gibbs said.
The Obama administration, he said, wants a genuine and real process that leads to free and fair elections, a process that takes place without delay and produces immediate and irreversible results: progress for the people in Egypt.
"I think there's a series of things that they have to do along the way. The dialogue has to be real in order to produce that real change. I think first and foremost, the government has got to stop arresting protesters and journalists; harassment, beatings, detentions of reporters, of activists, of those involved in civil society," he added.