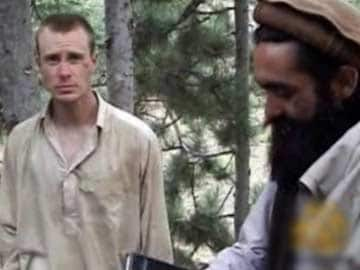 Washington:
The US decision to release five Taliban detainees from Guantanamo Bay in order to recover a soldier held in Afghanistan sparked a furor in Washington, with Republicans warning Sunday the move put Americans at risk.
Republican lawmakers were unanimous in their happiness about Saturday's release of Bowe Bergdahl after nearly five years in captivity - but quick to hit out at what they saw as setting a worrying precedent.
"Across northern Africa, the number one way that Al-Qaeda raises money is by ransom, kidnapping and ransom. We have now set a price," said Mike Rogers, the Republican chairman of the House intelligence committee.
"If you negotiate here, you've sent a message to every Al-Qaeda group in the world that says - by the way some holding US hostages today - that there is some value now in that hostage in a way they didn't have before. That is dangerous," Rogers told CNN.
"That's why so many of us are so concerned about what really is a break with US policy of not negotiating with terrorists."
Washington often chides foreign governments suspected of paying ransoms to hostage-takers in order to secure the release of their nationals held abroad.
But Howard "Buck" McKeon, the Republican chairman of the House Armed Services Committee, said the deal brokered by Qatar to release the 28-year-old Bergdahl had given insurgents "a strong incentive to capture Americans."
"That incentive will put our forces in Afghanistan and around the world at even greater risk," McKeon said.
Even President Barack Obama's first national security advisor, retired general Jim Jones, said the risk posed to soldiers merited debate.
If enemy fighters "think that the value of taking action against Americans and holding Americans is going to somehow help them achieve their goals, then they're going to do that," Jones told CNN.
Soldiers at risk?
The IntelCenter monitoring group said the prisoner swap "dramatically increases the threat to all Americans around the world who are leading targets for Al-Qaeda and their affiliates."
Republican Senator John McCain, who was a prisoner of war in Vietnam at the infamous Hanoi Hilton, argued that the Taliban figures released - all former officials in the 1996-2001 regime, and still influential - could again attack the United States.
"These are the hardest of the hard core. These are the highest high-risk people," McCain told CBS television's "Face the Nation" program, noting the men were "possibly responsible for the deaths of thousands."
"It is disturbing that these individuals would have the ability to re-enter the fight."
A Qatari source has said the men were due to remain in the Gulf state for one year. US officials have only said their movements and activities would be restricted.
Other Republicans went so far as to accuse Obama of breaking the law.
"In executing this transfer, the president also clearly violated laws which require him to notify Congress 30 days before any transfer of terrorists from Guantanamo Bay and to explain how the threat posed by such terrorists has been substantially mitigated," McKeon and Senator James Inhofe said in a joint statement.
But Obama's close aides quickly dismissed any allegation of wrongdoing by the administration, explaining that the president had discretion to act quickly to authorize a prisoner swap without telling Congress.
"We believe that the president of the United States, as commander in chief, has the power and authority to make the decision that he did under Article II of the Constitution," Defense Secretary Chuck Hagel said during a trip to Afghanistan.
National Security Advisor Susan Rice said that Bergdahl's failing health had created an "acute urgency" to act, which made it "necessary and appropriate" not to adhere to the 30-day notification requirement.
Following that requirement "would have potentially meant that the opportunity to get Sergeant Bergdahl would have been lost," she told CNN, adding that Congress was notified before the Guantanamo detainees were transferred.
Bergdahl "was a prisoner of war. This was an exchange of prisoners," Hagel said.
"We found an opportunity. We took that opportunity. I'll stand by that decision. I signed off on that decision. The president made the ultimate decision," he later told NBC's "Meet the Press."
Get Breaking news, live coverage, and Latest News from India and around the world on NDTV.com. Catch all the Live TV action on NDTV 24x7 and NDTV India. Like us on Facebook or follow us on Twitter and Instagram for latest news and live news updates.