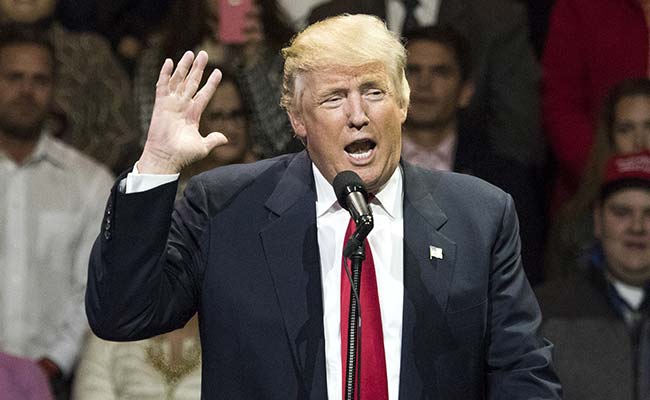 Highlights
Donald Trump calls Josh Earnest 'foolish', makes positive news sound bad
The US Press Secretary had said Trump knew of Russian elections hack
Trump's defence is it was a joke. White House doesn't think so: Earnest
Washington:
US President-elect Donald Trump has slammed White House Press Secretary Josh Earnest by calling him a "foolish guy" who delivers a "positive message that sounds bad".
"This foolish guy, Josh Earnest, I don't know," Donald Trump told his supporters in Hershey, Pennsylvania.
"You know, having the right press secretary is so important because he's so bad the way he delivers a message. He can deliver a positive message and it sounds bad. He could say ladies and gentlemen, today we have totally defeated ISIS, and it wouldn't sound good, okay?" Mr Trump said.
After Josh Earnest said that Donald Trump knew about the Russians allegedly hacking and interfering in the US general elections, thereby swaying the polls in favour of the Republican candidate, he indicated that Mr Earnest might be getting orders from someone.
"Maybe he is getting his orders from somebody else?" the President-elect said.
The White House Press Secretary defended himself saying, "It is just a fact -- you all have it on tape -- that the Republican nominee for president was encouraging Russia to hack his opponent, because he believed that would help his campaign. It is not a controversial statement. I'm not trying to be argumentative. But I am trying to acknowledge a basic fact."
"I recognise that the defence from the Trump campaign is that he was joking. I don't think anybody at the White House thinks it's funny that an adversary of the US engaged in malicious cyber activity to destabilise our democracy. That's not a joke. Nobody at the White House thought it was a joke. Nobody in the intelligence community thought it was a joke," he said.
"I'm not aware that any members of Congress in either party that was briefed on this matter multiple times dating back to the summer thought it was a joke."