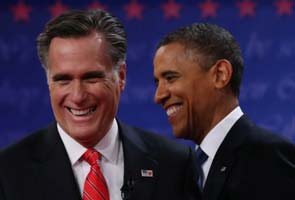 Denver:
US President Barack Obama and his Republican challenger Mitt Romney faced off on Wednesday in the first of three televised debates in the run-up to the November 6 election.
Here are some of the key quotes of the night. (
Rate the speakers here
)
UNACCUSTOMED MODESTY
Obama: "You know, four years ago, I said that I'm not a perfect man, and I wouldn't be a perfect president, and that's probably a promise Governor Romney probably thinks I've kept."
FEEL THE FEAR
Romney: "No question in my mind, if the president is re-elected you will see a middle class squeeze ... You will see chronic unemployment -- 43 straight months with unemployment above 8 percent."
FLATTERY WILL GET YOU EVERYWHERE
Moderator: "We've barely got three minutes left. I'm not going to grade the two of you and say your answers have been too long or I've done a poor job."
Obama: "You've done a great job, Jim."
THE ZINGER
Romney: "Mr. President, you are entitled to your own airplane, your own house as president, but not to your own facts."
CHURCH AND STATE
Romney: "That statement says we are endowed by our creator to pursue happiness as we choose ... We are a nation that believes we're children of the same God and we care for those with difficulties."
SARCASM BITES
Obama: "He now says he'll replace Obamacare and ensure all the good things in it will be in there ... Is the reason that Governor Romney is keeping all these plans to replace secret because they are too good?"
MODERATING THE MODERATOR
Obama: "Now, the last point I would make, before ..."
Moderator: "Two minutes is up, sir."
Obama: "No, I think -- I had five seconds before you interrupted me."
AGAIN WITH THE SARCASM
Obama: "So the question is, does anybody out there think that the big problem we had is that there was too much oversight and regulation of Wall Street (prior to the 2008 financial crisis)? Because, if you do, then Governor Romney is your candidate."

OBAMA FAMILY VALUES
Obama: "My grandmother died three days before I was elected president. She was fiercely independent. Only with a high school education, started as a secretary and ended up being vice president of a local bank."
ROMNEY FAMILY VALUES
Romney: "Look, I have five boys, I'm used to people saying something that isn't always true and keep on saying it hoping ultimately I will believe it. That is not the case."
BIG OIL
Obama: "Now, does anybody think that ExxonMobil needs some extra money, when they are making money every time you go to the pump? Why wouldn't we want to eliminate that? Why wouldn't we eliminate tax cuts for corporate jets?"
THE PAIN IN SPAIN
Romney: "Spain spends 42 percent of their total economy on government. We're now spending 42 percent of our economy on government. I don't want to go down the path of Spain. I want to put more Americans to work."
MORALITY TALE
Romney: "It's frankly not moral for my generation to keep spending massively more than we take in, knowing burdens will be passed on to the next generation and paying interest and principal all their lives."

BROKEN RECORD
Romney: "The president said he would cut the deficit in half. Unfortunately, he doubled it. Trillion dollar deficits for the last four years."
WHAT'S HE HIDING?
Obama: "Well, for 18 months he's been running on this tax plan, and now five weeks before the election, he says his big bold idea is 'never mind'."
THE TRUMP CARD
Obama: "We do have a difference when it comes to definitions of small businesses ... Donald Trump is a small business. Donald Trump doesn't like to think of himself as small anything."
SACK THE MUPPET
Romney: "I'm sorry Jim. I'm gonna stop the subsidy to PBS. I'm gonna stop other things. I like PBS. I like Big Bird. I actually like you too."
FORMER MASSACHUSETTS GOVERNOR MITT ROMNEY
On President Obama's economic plan:
"I'm concerned that we're on the path that's just been unsuccessful. The president has a view very similar to the one he had when he ran for office four years ago, that spending more, taxing more, regulating more, if you will, trickle-down government would work. That's not the right answer for America."
On taxes:
"I'm not looking to cut massive taxes and reduce the revenues going to the government. My number one principle is there will be no tax cut that adds to the deficit. But I do want to reduce the burden being paid by middle-income Americans. And to do that, that also means I cannot reduce the burden paid by high-income people."
PRESIDENT BARACK OBAMA
In response to Mr Romney's tax plan:
"If you're lowering the rates as you describe, governor, it is not possible to come up with enough deductions and loopholes that only affect high-income individuals or burdening the middle class. It's math, it's arithmetic."
On small business:
"We do have a difference when it comes to definitions of small business... Under Governor Romney's definition there are a bunch of millionaires and billionaires who are small businesses. Donald Trump is a small business. And I know Donald Trump doesn't like to think of himself as small anything but that's how you define small business if you're getting business income."