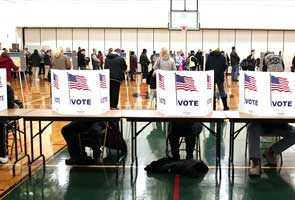 Poll results in the key swing states that will decide the US presidential election remained too close to call on Tuesday even as Barack Obama and Mitt Romney racked up victories in their heartlands.
As expected, the Democratic incumbent Obama polled strongly in New England and the northeast, grabbing densely populated states like New York, New Jersey, Pennsylvania and Illinois, according to projections by US news networks.
His rival Romney did predictably well in the southern bible belt and western prairie states, winning the major prize of Texas and taking back Indiana, which Obama won in 2008, for the Republicans.
But Romney failed to win Michigan, his home state where his father served as governor, and the key battleground states of Florida, Virginia, Wisconsin, North Carolina and Ohio remained too close to call.
Polling was due to have ended in the east of the country, but there were long lines in many areas and officials kept polling centers open late, as the campaigns pleaded with their supporters to stay the course.
The final opinion polls published before voting began showed the two candidates in a dead heat nationwide, but gave Obama a slight advantage in the handful of swing states like Virginia and Ohio that will decide the race.
Each state has a quota of electoral college votes based on its population, and the eventual victor will be the candidate who secures the most.
At 9:00 pm (0200 GMT), Romney had amassed a tally of 154 electoral votes to Obama's 144, with Ohio on course to be the deciding vote in a close-fought race to amass the 270 needed for a majority.