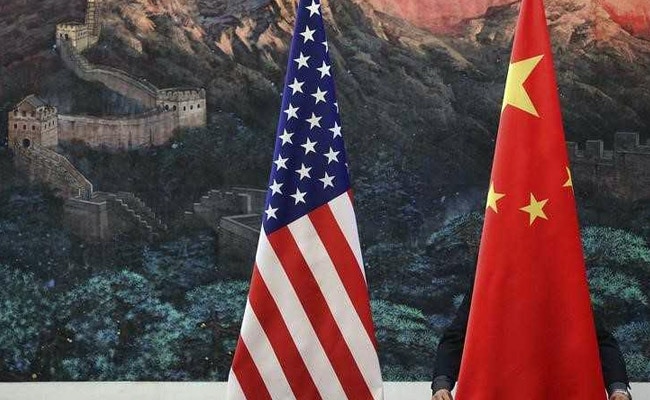 Washington:
China and the United States have been closely linked trading partners since the Asian giant joined the global system nearly 20 years ago.
But Washington accuses Beijing of a host of unfair trade practices, including the "theft" US technology.
In his latest strike against the trade behemoth, President Donald Trump on Thursday hit the country with tariffs on as much as $60 billion in Chinese goods, saying the move was the "first of many" upcoming actions.
- The yawning trade gap -
The total trade deficit with China has swelled as commerce between the two countries has increased.
In 2017, US exports of goods and services to China jumped to $186.8 billion, up 9.8 percent from 2016, and imports from China were $524.0 billion, up 9.3 percent.
That meant the trade deficit increased to $337.2 billion, compared to just $67.4 billion in 1999.
Trump has repeatedly denounced the imbalance as a major sign of US weakness, but many economists consider a trade deficit to be a poor indicator of economic performance.
- Trade in goods -
Last year, the United States sold China $130.4 billion in goods but imported $505.6 billion, according to government figures.
US exports included Boeing jets and other aviation equipment, valued at $16.3 billion, $12.4 billion in soy beans, and $10.5 billion in new and used cars, as well as $6.1 billion in microprocessors.
But the US also bought myriad goods from China: mobile telephones ($70.4 billion), computers ($45.5 billion), telecommunications equipment ($33.5 billion), digital devices ($31.6 billion), toys and games ($26.8 billion), as well as clothing ($24.1 billion) and furniture ($20.7 billion).
- Services -
But services is a dominant part of the US economy, and if goods are excluded, the United States ran a surplus of $38.5 billion with China last year.
In recent years, the largest US services exports to China have been in travel, with Chinese visitors to the United States a major component counted under services.
- Chinese investment -
China's direct investment in the United States stood at $29 billion in 2017, down 35 percent from 2016, due mainly to restrictions imposed by Beijing on foreign investment, especially in the housing and travel industries.
In November, Trump was on hand with China President Xi Jinping when China Energy Investment signed a memorandum of understanding to invest $83.7 billion in shale developments and chemical projects in the state of West Virginia over 20 years.
Chinese interests also helped launch the Michigan-China Innovation Center in Detroit in 2016 to revitalize the Midwestern state's economy.
- China buys US Treasuries -
China ranks ahead of Japan as the biggest holder of US government debt. In January, Beijing held a bit more than $1.2 trillion in US Treasury bonds, about 20 percent of the total held by foreign institutions.
Those holdings have been a key support for the US currency, permitting Americans to consume imported goods at affordable prices and allowing Beijing an outlet for its exports as well as a way to keep its massive foreign currency reserves from entering the domestic economy and fueling inflation.
- Intellectual property -
Washington has grown increasingly concerned about the sanctity of US intellectual property. As a condition to enter the market, China often demands companies share some of their knowhow -- the key factor behind the sanctions announced Thursday.
US have highlighted the piracy of US goods and the easy availability of knockoff goods in China.