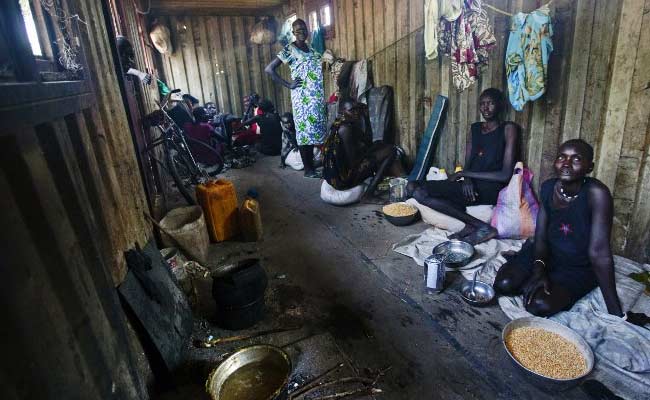 Khartoum, Sudan:
As many as 73,000 civilians have fled the Jebel Marra area in the heart of Sudan's Darfur region since clashes erupted between rebels and troops on January 15, the United Nations said today.
The world body said the displacement was the largest in the district in a decade and marked a major flare-up in the conflict which has seen ethnic minority rebels fighting government troops and militia allies since 2003.
"The number of civilians displaced as a result of the recent conflict in Darfur's Jebel Marra area has increased from 38,000 to 73,000, according to the latest estimates," the UN Office for the Coordination of Humanitarian Affairs said in a statement.
The Marra mountains, which rise to more than 3,000 metres (nearly 10,000 feet) and are one of Darfur's most fertile areas, are controlled by rebels of Abdulwahid Nur's faction of the Sudan Liberation Army (SLA-AW).
Many of those fleeing -- most of them women and children -- have taken refuge at a base at Sortoni run by peacekeepers of the UN-African Union Mission in Darfur (UNAMID).
"The recent increase is largely due to a massive influx of some 30,000 civilians in Sortoni," OCHA said.
A total of 53,562 displaced civilians are taking shelter around the peacekeepers' base, the UN said.
Nearly 18,000 civilians have taken shelter at a camp for the displaced in Tawila.
"The UN and partners have teams on the ground working to assess the needs of those who have recently arrived in Sortoni and Tawila," said UN mission chief Marta Ruedas.
A second convoy carrying aid to civilians at Sortoni is expected to leave from the North Darfur state capital El Fasher on Tuesday, the UN said.
Last Wednesday, a 24-truck UN convoy reached the site carrying food, medical aid and shelter.
The Sudanese government has not given the UN or aid agencies access to some areas around Jebel Marra making verification of the exact number of people fleeing difficult.
The army has been trying to crush SLA-AW forces in Jebel Marra for nearly a month, saying it was responding to attacks by the rebels.
The SLA-AW says the government attacked the region first and that it has beaten back several assaults.
The UN says that some 300,000 people have been killed in the fighting in Darfur since 2003 and 2.5 million displaced.