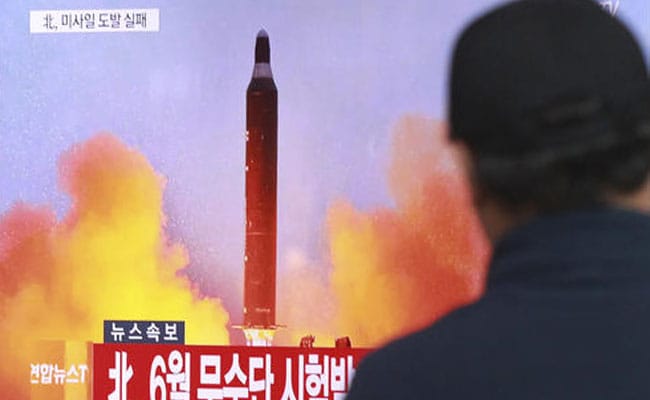 United Nations, United States:
The UN Security Council on Monday denounced North Korea's latest test of a powerful missile that one leading US expert warned could be put into operational service as early as next year.
North Korea test-fired the medium-range Musudan -- capable of hitting US bases as far away as Guam -- on Saturday.
Although the exercise was a failure, with the missile exploding soon after lift-off, it still represented a breach of UN resolutions prohibiting the North's use of ballistic missile technology.
In a unanimous statement backed by the North's main ally China, the council "strongly condemned" the test, branding it a "grave violation" of North Korea's international obligations.
Council members agreed to "closely monitor the situation and take further significant measures," the statement said.
First unveiled as an indigenous missile at a military parade in Pyongyang in October 2010, the Musudan has a theoretical range of anywhere between 2,500 and 4,000 kilometers (1,500 and 2,500 miles).
The lower estimate covers the whole of South Korea and Japan, while the upper range would include US military bases on Guam.
The missile has now been tested seven times this year -- but only once successfully.
A Musudan launched in June flew 400 kilometers into the Sea of Japan (East Sea), and was hailed by leader Kim Jong-Un as proof of the North's ability to strike US bases across "the Pacific operation theater".
Despite the string of failures, John Schilling, an aerospace engineer specializing in rocket propulsion, said the missile was moving swiftly towards operational deployment.
The aggressive launch schedule, while multiplying the risk of failure, also increases the information gleaned from each test, Schilling said.
"If they continue at this rate, the Musudan intermediate-range ballistic missile could enter operational service sometime next year -- much sooner than had previously been expected," he wrote on the 38North website of the US-Korea Institute at Johns Hopkins University.
The latest Musudan test came with the United States and China still thrashing out a new sanctions resolution to punish Pyongyang for its fifth nuclear test carried out last month.
North Korea has been hit by five sets of UN sanctions since it first tested a nuclear device in 2006.
After Pyongyang carried out its fourth nuclear test in January, the Security Council adopted the toughest sanctions resolution to date, targeting North Korea's trade in minerals and tightening banking restrictions.
The ongoing negotiations on the new sanctions measure are focused on closing loopholes and zeroing in on North Korea's nuclear and ballistic missile technology industry, according to Security Council diplomats.