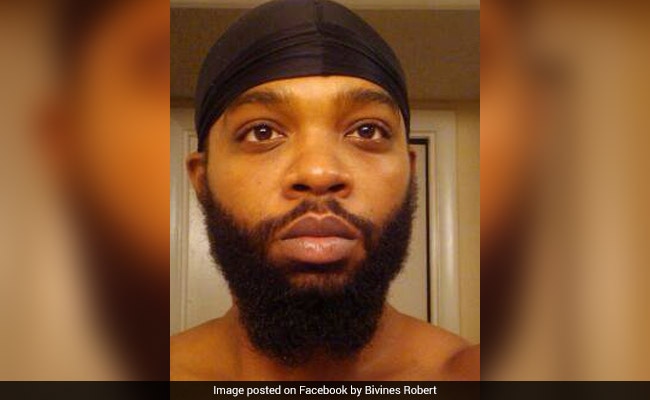 An Uber Eats driver has been charged with murder in the shooting death of a customer Saturday in Atlanta.
Authorities said Robert Bivines, 36, opened fire on 30-year-old Ryan Thornton late Saturday night in the city's Buckhead neighborhood. Witnesses told police that after Bivines delivered the customer's meal, he fired multiple shots, hitting Thornton, and then fled from the scene.
Bivines turned himself in Monday and was booked into the Fulton County Jail on a murder charge, his attorney, Jackie Patterson, said.
Patterson said there was an argument before the shooting and that his client had tried to protect himself. "There's no question that my client was defending himself," he told The Washington Post on Monday, saying that the customer had become aggressive - reaching into his coat pocket and charging at the driver.
"It was clear self-defense." the attorney said.
Officers responded to the scene about 11:30 p.m. Saturday as the victim was being rushed to a nearby hospital in critical condition. Police said Thornton suffered multiple gunshot wounds and later died of his injuries.
Witnesses told police that the victim had used Uber's food delivery service to order a meal. They said that when the delivery arrived, Thornton met the driver and received his order; then, as Thornton walked away, "words may have been exchanged" between the two men, police said in a statement.
Police said shots were fired from the delivery vehicle, striking Thornton.
Patterson said that Bivines told him that Thornton was agitated by the time Bivines arrived because the driver had issues finding the location. Patterson said that when Bivines gave Thornton his food order, Thornton "jerked it" away and cursed at the driver. Thornton then reached into his jacket pocket and shouted "I'm going to f- you up," according to Bivines's attorney.
Patterson said Bivines thought the customer had a gun and that he tried to defend himself.
An unidentified man who said he was Thornton's uncle told NBC affiliate WXIA that his nephew had recently received a political science degree from Morehouse College in Atlanta and had started a new job. "Ryan was a good boy," he told the station.
An Uber spokesman said that the company is cooperating with investigators in the shooting.
"We are shocked and saddened by this news," the spokesman said in a statement. "We are working with the Atlanta Police Department, and our hearts go out to the families of those involved."
Uber launched Uber Eats, several years ago as a food delivery app in which drivers pick up meals from local restaurants and deliver them to customers.
According to Uber, drivers are required to undergo a screening process, which checks driving histories and criminal histories, including the national sex offender registry. In addition, Uber bars both drivers and riders from carrying firearms in the vehicles, "to the extent permitted by applicable law," according to the company's firearm policy.
"Our goal is to ensure that everyone has a safe and reliable ride. That's why Uber prohibits riders and drivers from carrying firearms of any kind in a vehicle while using our app," Uber says on its website. The company said that drivers or riders who fail to comply with the policy may be banned from Uber.
(This story has not been edited by NDTV staff and is auto-generated from a syndicated feed.)