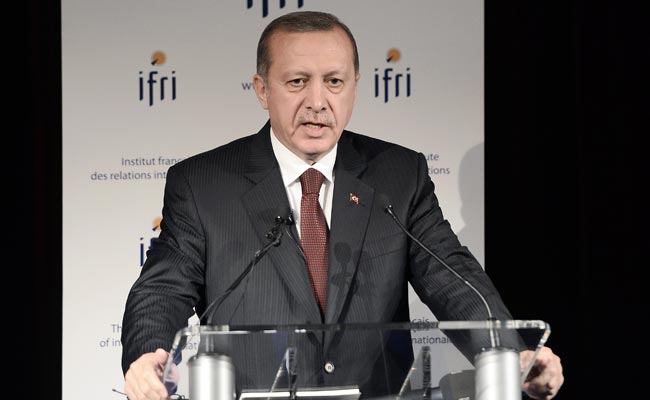 Istanbul:
Turkish President Recep Tayyip Erdogan described efforts to promote birth control as "treason", saying contraception risked causing a whole generation to "dry up", reports said today.
Erdogan made the comments on Sunday, directly addressing the bride and groom at the Istanbul wedding ceremony of the son of businessman Mustafa Kefeli, who is one of his close allies.
He told the newly-weds that using birth control was a betrayal of Turkey's ambition to make itself a flourishing nation with an expanding young population.
"One or two (children) is not enough. To make our nation stronger, we need a more dynamic and younger population. We need this to take Turkey above the level of modern civilisations," Erdogan said.
"In this country, they (opponents) have been engaged in the treason of birth control for years and sought to dry up our generation," Erdogan said.
"Lineage is very important both economically and spiritually. I have faith in you," he said in comments reported by the Dogan news agency, which also posted a video of his speech.
Erdogan went on to praise marriage in front of the couple, who were declared man and wife by Istanbul's Mayor Kadir Topbas.
"Marriage is a long journey. There are good days and bad days. Good days become more frequent as we share them and bad days finally bring happiness if we are patient," said Erdogan.
He added: "One (child) means loneliness, two means rivalry, three means balance and four means abundance. And God takes care of the rest," he added.
'Women are not incubators'
Erdogan's government has long been accused by critics of seeking to impose strict Islamic values on Turks and curtailing the civil liberties of women.
The President- who has two sons and two daughters- has angered feminist groups for declaring that every woman should have three children and saying that women are not equal to men.
He has also made proposals to limit abortion rights, the morning-after pill and Caesarian sections.
But this appears to be his strongest attack yet on the principle of birth control.
Erdogan has repeatedly warned that Turks must have more children to prevent the rapid ageing of the population.
Turkey's population has risen exponentially in recent decades to over 76 million but the birth rate has begun to slow.
Erdogan's latest remarks gave fresh ammunition to critics who argue the devout Muslim is trying to raise the profile of Islam in secular Turkey.
Opposition lawmaker Aylin Nazliaka said in a written statement that Erdogan portrayed women as "incubators" rather than "individuals", leaving them exposed to violence.
"Erdogan has become the president but he continues to act like a guardian. Would he talk so blatantly about the female body if he was capable of giving birth to a child?" she said.
Health Minister Mehmet Muezzinoglu, a doctor with two children, had at the weekend also caused controversy by declaring pregnant women did not have the right to decide how they would deliver their child.
"It is the duty of the midwives and the doctors to prepare them for the birth. The patients cannot say 'I want a Caesarean'. They don't have such a right," he said.
"The doctors' job is to fulfil their medical responsibilities not to follow the patients' demands. Doctors must give the medical treatment that the patients have a right to. The C-section is not one of those rights."