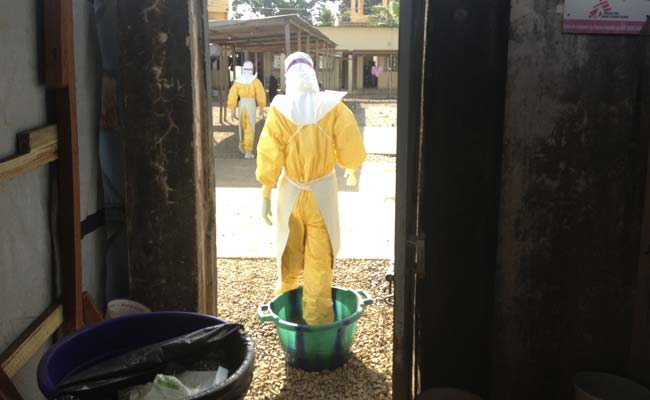 Gueckedou, Guinea:
Patient Zero in the Ebola outbreak, researchers suspect, was a 2-year-old boy who died Dec. 6, just a few days after falling ill in a village in Gueckedou, in southeastern Guinea. Bordering Sierra Leone and Liberia, Gueckedou is at the intersection of three nations, where the disease found an easy entry point to the region.
A week later, it killed the boy's mother, then his 3-year-old sister, then his grandmother. All had fever, vomiting and diarrhea, but no one knew what had sickened them.
Two mourners at the grandmother's funeral took the virus home to their village. A health worker carried it to still another, where he died, as did his doctor. They both infected relatives from other towns. By the time Ebola was recognized, in March, dozens of people had died in eight Guinean communities, and suspected cases were popping up in Liberia and Sierra Leone - three of the world's poorest countries, recovering from years of political dysfunction and civil war.
In Gueckedou, where it all began, "the feeling was fright," said Dr. Kalissa N'fansoumane, the hospital director. He had to persuade his employees to come to work.
On March 31, Doctors Without Borders, which has intervened in many Ebola outbreaks, called this one "unprecedented," and warned that the disease had erupted in so many locations that fighting it would be enormously difficult.
Now, with 1,779 cases, including 961 deaths and a small cluster in Nigeria, the outbreak is out of control and still getting worse. Not only is it the largest ever, but it also seems likely to surpass all two dozen previous known Ebola outbreaks combined. Epidemiologists predict it will take months to control, perhaps many months, and a spokesman for the World Health Organization said thousands more health workers were needed to fight it.
Some experts warn that the outbreak could destabilize governments in the region. It is already causing widespread panic and disruption. On Saturday, Guinea announced that it had closed its borders with Sierra Leone and Liberia in a bid to halt the virus' spread. Doctors worry that deaths from malaria, dysentery and other diseases could shoot up as Ebola drains resources from weak health systems. Health care workers, already in short supply, have been hit hard by the outbreak: 145 have been infected, and 80 of them have died.
Past Ebola outbreaks have been snuffed out, often within a few months. How, then, did this one spin so far out of control? It is partly a consequence of modernization in Africa, and perhaps a warning that future outbreaks - which are inevitable - will pose tougher challenges. Unlike most previous outbreaks, which occurred in remote, localized spots, this one began in a border region where roads have been improved and people travel a lot. In this case, the disease was on the move before health officials even knew it had struck.
Also, this part of Africa had never seen Ebola before. Health workers did not recognize it and had neither the training nor the equipment to avoid infecting themselves or other patients. Hospitals in the region often lack running water and gloves, and can be fertile ground for epidemics.
Public health experts acknowledge that the initial response, both locally and internationally, was inadequate.
"That's obviously the case," said Dr. Thomas Frieden, director of the Centers for Disease Control and Prevention. "Look at what's happening now."
He added, "A couple of months ago, there was a false sense of confidence that it was controlled, a stepping back, and then it flared up worse than before."
Health experts have grown increasingly confident in recent years that they can control Ebola, Frieden said, based on success in places like Uganda.
But those successes hinged on huge education campaigns to teach people about the disease and persuade them to go to treatment centers. Much work also went into getting people to change funeral practices that involve touching corpses, which are highly infectious.
But in West Africa, Ebola was unknown.
In some areas, frightened and angry people have attacked health workers and even accused them of bringing in disease.
"Early on in the outbreak, we had at least 26 villages or little towns that would not cooperate with responders in terms of letting people into the village, even," said Gregory Hartl, a spokesman for the World Health Organization.
The outbreak has occurred in three waves: The first two were relatively small, and the third, starting about a month ago, was much larger, Hartl said. "That third wave was a clarion call," he said.
At a House subcommittee hearing Thursday, Ken Isaacs, a vice president of Samaritan's Purse, said his aid group and Doctors Without Borders were doing much of the work on the outbreak.
"That the world would allow two relief agencies to shoulder this burden along with the overwhelmed Ministries of Health in these countries testifies to the lack of serious attention the epidemic was given," he said.
In mid-March, Guinea's Ministry of Health asked Doctors Without Borders for help in Gueckedou.
At first, the group's experts suspected Lassa fever, a viral disease endemic in West Africa. But this illness was worse. Isolation units were set up, and tests confirmed Ebola.
Like many African cities and towns, this region hums with motorcycle taxis and minivans crammed with passengers.
The mobility, and now the sheer numbers, make the basic work of containing the disease a monumental task. The only way to stop an outbreak is to isolate infected patients, trace all their contacts, isolate the ones who get sick and repeat the process until, finally, there are no more cases.
But how do you do that when there can easily be 500 names on the list of contacts who are supposed to be tracked down and checked for fever every day for 21 days?
"They go to the field to work their crops," said Monia Sayah, a nurse sent in by Doctors Without Borders. "Some have phones, but the networks don't always work. Some will say, 'I'm fine; you don't have to come,' but we really have to see them and take their temperature. But if someone wants to lie and take Tylenol, they won't have a temperature."
At Donka Hospital in Guinea's capital, Dr. Simon Mardel, a British emergency physician who has worked in seven previous hemorrhagic fever outbreaks and was sent to Guinea by the World Health Organization, realized this outbreak was the worst he had seen. A man had arrived late one night, panting and with abdominal pain. During the previous few days, he had been treated at two private clinics, given intravenous fluids and sent home. The staff did not suspect Ebola because he had no fever. But fever can diminish at the end stage of the disease.
The treatment room at Donka was poorly lit and had no sink. There were few buckets of chlorine solution, and the staff found it impossible to clean their hands between patients.
The man died two hours after arriving. Tests later showed he had been positive for Ebola. Untold numbers of health care workers and their subsequent patients had been exposed to the disease.
Gloves, in short supply at the hospitals, were selling for 50 cents a pair on the open market, a huge sum for people who often live on less than a dollar a day. At homes where families cared for patients, even plastic buckets to hold water and bleach for washing hands and disinfecting linens were lacking.
Workers were failing to trace all patients' contacts. The resulting unsuspected cases, appearing at hospitals without standard infection control measures, worsened the spread in a "vicious circle," Mardel said.
Tracing an Epidemic's Origins
As is often the case in Ebola outbreaks, no one knows how the first person got the disease or how the virus found its way to the region. The virus infects monkeys and apes, and some previous epidemics are thought to have begun when someone was exposed to blood while killing or butchering an infected animal. Cooking will destroy the virus, so the risk is not in eating the meat, but in handling it raw. Ebola is also thought to infect fruit bats without harming them, so the same risks apply to butchering bats. Some researchers also think that people might become infected by eating fruit or other uncooked foods contaminated by droppings from infected bats.
Once people become ill, their bodily fluids can infect others, and they become more infectious as the illness progresses. The disease does not spread through the air like the flu; contact with fluids is necessary, usually through the eyes, nose, mouth or cuts in the skin. One drop of blood can harbor millions of viruses, and corpses become like virus bombs.
A research team that studied the Guinea outbreak traced the disease back to the 2-year-old who died in Gueckedou and published a report in The New England Journal of Medicine. He and his relatives were never tested to confirm Ebola, but their symptoms matched it and they fit into a pattern of transmission that included other cases confirmed by blood tests.
But no one can explain how such a small child could have become the first person infected. Contaminated fruit is one possibility. An injection with a contaminated needle is another.
Sylvain Baize, part of the team that studied the Guinea outbreak and head of the national reference center for viral hemorrhagic fevers at the Pasteur Institute in Lyon, France, said there might have been an earlier case that went undiscovered, before the 2-year-old.
"We suppose that the first case was infected following contact with bats," he said. "Maybe, but we are not sure."
Roaring Back in Liberia
Dr. Fazlul Haque, deputy representative of UNICEF in Liberia, said that after a few cases there in March and April, health workers thought the disease had gone away. But it came roaring back about a month later.
"It reappeared, and this time, it came in a very big way," he said. "The rate of increase is very high now."
From July 30 to Aug. 6, Liberia's government reported more than 170 new cases and over 90 deaths.
"Currently, our efforts are not enough to stop the virus," Haque said.
He added that most health agencies believed the true case numbers to be far higher, in part because locals were not coming forward when relatives fell ill, and because detection by the health authorities has been weak. Rukshan Ratnam, a spokesman for UNICEF in Liberia, said some families had hidden their sick to avoid sending them to isolation wards or out of shame stemming from traditional beliefs that illness is a punishment for doing something wrong.
Haque said that the tracing of cases, crucial for the containment of the disease, was moving too slowly to keep up with new infections. Seven counties have confirmed cases, and the government has deployed security forces in Lofa County, where Liberia's first case was detected, he said. But the government has given leave to nonessential employees in those areas, so it is not clear how they will have the staffing to isolate the sick. Some hospitals have closed because so many health workers have fallen ill.
Liberia has closed markets and many border crossings. It has said testing and screening will be done at immigration checkpoints.
But on Thursday, at a checkpoint staffed by at least 30 soldiers in Klay, Bomi County, there was no screening - just a blockade and a line of trucks loaded with bags of charcoal, plantains and potato greens.
Hilary Wesseh, a truck driver who was sucking the last drops of juice out of a small lime, said he had been stuck there for two days.
"They are holding us hostage," he said.
A Desperate Call for Help
By June and July, Sierra Leone was becoming the center of the outbreak. At the government hospital in Kenema, Dr. Sheik Umar Khan was leading the efforts to treat patients and control the epidemic.
But he was desperate for supplies: chlorine for disinfection, gloves, goggles, protective suits, rudimentary sugar and salt solutions to fight dehydration and give patients a chance to survive. Early in July, he emailed friends and former medical school classmates in the United States, asking for their help and sending a spreadsheet listing what he needed, and what he had. Many of the lines in the "available" column were empty. One of his requests was for body bags: 3,000 adult, 2,000 child.
Before his friends could send the supplies, Khan contracted Ebola himself. He died July 29.
© 2014, The New York Times News Service