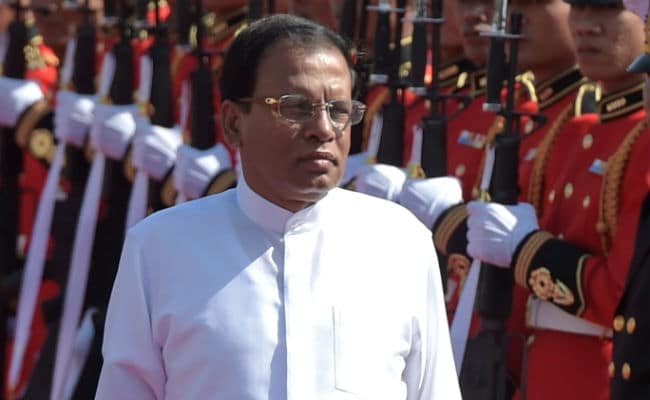 Colombo:
A former top counter-terrorism official in Sri Lanka was arrested on Thursday in connection with an alleged plot to assassinate several VIPs, including President Maithripala Sirisena, a police said.
Nalaka de Silva, the former DIG of the Terrorist Investigation Division (TID), was arrested by the CID, police spokesman S P Ruwan Gunasekara said.
The arrest was made during his interrogation by the CID which had questioned him on five separate days over the alleged plot to kill President Sirisena and former defence minister Gotabhaya Rajapaksa.
A man named Namal Kumara disclosed the alleged plot implicating Mr Silva.
Mr Kumara has claimed that Mr Silva had discussed the plot with him over phone targeting President Sirisena and Mr Rajapaksa. Police have audio evidence of that.
President Sirisena's security was beefed up after the disclosure of the plot. Last week accused his unity government partner of the Prime Minister Ranil Wickremesinghe of going slow on the investigations.
An Indian national named Merceli Thomas is currently under detention in Sri Lanka for his alleged involvement in the plot. He had visited Mr Kumara's home raising suspicions.
Mr Thomas appeared in court before the Colombo Fort magistrate on Tuesday.
He said in a written statement that he is innocent but the Sri Lankan police's criminal investigation department was trying to implicate him in the plot. He said he had been under detention for 34 days and as a result his health had deteriorated.
Thomas was arrested late last month following a complaint by Mr Kumara, who claimed he was representing the Anti-Corruption Force, and who had alleged a plot to assassinate President Sirisena and Mr Rajapaksa.