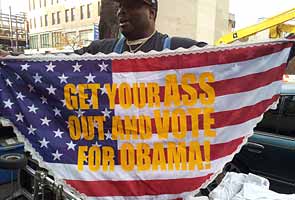 Chicago:
US President Barack Obama surprised some campaign volunteers in swing state Wisconsin Tuesday with election day calls from a field office in Chicago to thank them for getting out the vote.
"This is Barack Obama. You know, the president?" he was heard telling a woman in Wisconsin.
Obama arrived at the field office near his home in Hyde Park shortly before 9:00 am (1500 GMT) to applause from staffers, according to an account from pool reporters following the president.
He took off his blue suit jacket, hung it on the back of a chair and said: "Let's get busy, we've got to round up some votes."
Then, sitting with four other campaign workers at a table, he began making calls with a flip-style cell phone.
"Hi is this Annie? This is Barack Obama," he said.
He remarked at the end of the call: "She was very nice to me even though she initially didn't know who I was."
Five calls later, all to campaign volunteers in Wisconsin, Obama rang Jyl Molle, a "data coordinator and comfort captain."
"Hi is this Jyl? This is Barack Obama. This is your president. You're working so hard I had to say thanks. No, it is. I'm calling some of our best volunteers up in Madison."
Jyl apparently put someone else on the phone and the president again said hello.
"You guys are out there just tearing it up," he said. "Proud of you guys."