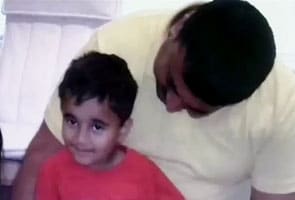 Oslo:
The Indian government has intervened to help an NRI couple who are fighting for the custody of their children in Norway. These are five big facts about the story:
1.The case:
Anurup Bhattacharya works as a geo-scientist and lives with his wife Sagarika in Stavanger. Last May, the Norway child welfare service, also called Barnevarne, took away their children and placed them in foster care. They intervened after reports that the Bhattacharyas' son, three-year-old Abhigyan, displayed erratic behaviour at school. Officials objected to Abhigyan and his one-year-old sister, Aishwarya, sleeping in the same bed as their parents, and being fed by hand. This, they said, amounted to force-feeding. They also said Abhigyan and Aishwarya showed an emotional disconnect with their parents. The children are now with a foster family.
2.The compromise:
Governments of Norway and India have negotiated a settlement that is likely to be signed by the Bhattacharyas today. The children's paternal uncle, Arunabhash, who lives in Kolkata is likely to fly to Norway. He will be granted their custody upon guaranteeing that their upbringing will "meet with their needs." Regular reports to the Norway authorities may have to be submitted by the family.
3. Why India intervened:
A local court has rejected the Bhattacharyas' appeal that what's being seen as negligence is a misunderstanding of their culture. The children are meant to stay in foster care till they turn 18. Till then, they can meet their parents twice a year. Bhattacharyas' visas for Norway expire at the end of March. They want to return home to Kolkata with their children. "We want to give our children a big hug, but we cannot," a visibly anguished Anurup told NDTV.
4. Reverberations in India:
Over the weekend, Sagarika Bhattacharya's parents Monotosh and Shikha Chakravarty met President Pratibha Patil to seek her assistance. Foreign Affairs Minister SM Krishna then contacted his counterpart in Norway and stressed the need for the children to be in an environment that is culturally and linguistically comfortable for them.
5. What went against the parents:
Charges against the parents in Norway included the fact that Sagarika had slapped her son once; and that the children did not have enough room to play and has "unsuitable" clothes and toys.