The Marine Corps is set to rename 19 of its job titles following a directive by Secretary of the Navy Ray Mabus to make occupational specialties more gender neutral after once-closed combat jobs were opened to women at the start of the year.
The list of jobs removes the word "man" from 15 of the titles and replaces it with Marine. In other changes, "antitank missleman" has been renamed "antitank gunner," and "field artillery operations man" is now "field artillery operations chief."
The other three title changes pertain to positions associated with reconnaissance Marine (formerly reconnaissance man) occupational specialties.
The Marine Corps is expected to make an official announcement regarding the changes, which were first reported by the Marine Corps Times on Monday, in the coming days.
Some titles will remain the same, such as rifleman and mortarman, but the mere possibility of Marines having to possibly change their title to rifleperson spawned plenty of indignation.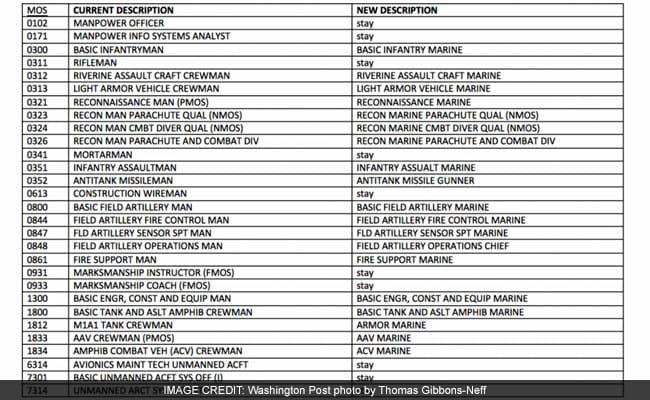 "On one hand, the name changes from 'man' to 'person' or whatever they want to call it doesn't really matter. They could call mortarmen bakers for all I care," said Sgt. Geoff Heath, a Marine rifleman with multiple combat deployments. "But on the other, it's a direct reflection on society's crybaby political correctness."
Marines, though, complain about everything. Basic infantry Marines even more so.
The rage - mostly confined to tweets, Facebook links and comments' sections - centered on the idea that the Marine Corps was being gutted by political correctness. While many of the remarks cannot be quoted in full here because of expletives, the Facebook page of the Marine Corps' unofficial scribe - Terminal Lance - is, at the time of writing, a flurry of discussion on the topic.
Here are some of the highlights:
"Not really seeing why this matters. A marine is a marine. If this triggers you well . . . not really sure what to say honestly. You'd think someone who has seen combat would have more stones."
"Are they gonna stop calling them Marines next?"
"Didn't touch mortars . . . nice. Although I would have been okay with spaded marine, mortarspader, high efficiency card player marine, spade crew marines, or skater spader. . ."
"lol glad i only got a few months left."
"You know, I was going to [complain] about PC crap . . . but "Infantry Assault Marine" sounds kinda cool . . ."
One active-duty Marine, who requested anonymity because he is not authorized to speak to the media, said there were bigger problems to solve in a Marine Corps that is transitioning from almost 15 years of war.
"It's nothing to be upset about," he said. "Besides, mine's not changing. . . . I'm a Scout Sniper."
(This story has not been edited by NDTV staff and is auto-generated from a syndicated feed.)
Get Breaking news, live coverage, and Latest News from India and around the world on NDTV.com. Catch all the Live TV action on NDTV 24x7 and NDTV India. Like us on Facebook or follow us on Twitter and Instagram for latest news and live news updates.