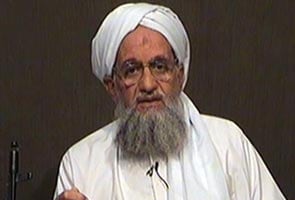 New York:
FBI's list of most wanted terrorists got shorter with the slaying of its most prominent face, Osama bin Laden, and now has only nine names from the original 22 compiled after the 9/11 attacks.
Nine still more-highly sought include Ayman Al-Zawahiri, an Eyptian eye surgeon, expected to replace bin Laden as the new leader of Al Qaeda.
Zawahiri, the group's chief ideologue and believed by intelligence agencies to have been the operational brain behind the September 11 attacks, carries a bounty of USD 25 million like his late chief bin Laden.
The Egyptian, who helped found the Islamic jihad militant group in his country, has twice escaped missile attacks by US drones.
He was thought to be hiding in the mountainous region along the Pak-Afghan border, but today's killing of bin Laden in upscale Abbottabad has made US spy agencies revise the schedule of his hideouts to include Pakistani cities.
Private groups in the West had added another USD 2 million in rewards on top of the USD 25 million bounty on the head of Osama bin Laden.
Other most prominent Al Qaeda terrorists on the list are Abu Yahya al-Libi, a member of the Libyan Islamic fighting group before he allied himself to bin Laden.
(To the right: Picture of Adam Gadahn)
Another prominent leader is Khalid al-Habib thought to be either Egyptian or Moroccan and now believed to be Al Qaeda's chief of operations in Afghanistan.
The list also includes bin Laden's son Saad bin Laden, who crossed over to Iran after US forces entered Kabul in 2001. He is reported to have been released and made his way to northern Pakistan.
Other leaders are Midhat Mursi, an Egyptian chemist who oversees Al Qaeda's efforts to develop chemical and biological weapons and Adam Gadahn, a US national who joined Al Qaeda and is said to be one of its leading operatives.
Also in the list is Nasser Abdul Karim Al-Wuhayshi, a former aide of bin Laden, who fought with him in Tora Bora in 2001.
The two others are Fahd Mohammed Al-Quso, believed to be holed up in North Waziristan who issued threats of revenge attacks against the killing of bin Laden and Hamza al-Jawfi.
(To the left: Image of Fahd Mohammed Al-Quso)