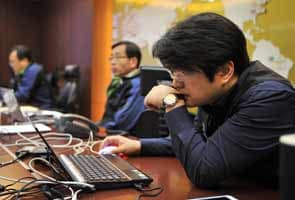 New Delhi:
Web pages opening a little slower, some pages not opening at all and some sites completely unavailable? Videos streaming a little slower, or completely freezing? Your Facebook and Twitter updates taking forever to refresh? If that's what you've been experiencing in the past few hours then don't just blame your local Internet Service Provider (ISP). You're just part of a global Internet slowdown that has come about from within the biggest cyber-attack in the history of the online world.
Online Doomsday predictors have termed this the start of the end of the Internet and asked people to be prepared for a day where the Internet doesn't exist anymore.
That would be gross exaggeration! While there is a noticeable slowdown in many parts - the Internet in itself isn't dying. This is the result of bloody battle between online companies - Spam-fighting organization Spamhaus is being subjected to a massive cyber-attack, from groups angry at being blacklisted by the Geneva-based company. Spamhaus reportedly suffered a distributed denial-of-service (DDoS) attack which at times peaked at more than 300 billion bits per second (300Gbps) of data - three times higher than the previous record attack of 100 Gbps.
Anybody trying to access the Internet within the path that this attack was travelling would feel that the Net is dead. And as coincidences go, Etisalat, one of the biggest ISPs suffered a break in one of its fiber optic cables in the Mediterranean off the Egyptian coast near Alexandria. This has led to most of the Middle East and others areas going dark too. Both are completely unrelated events though.
While the slowdown is real and the impact huge, the Internet in itself is safe and ticking. The DDoS attack was directed at a specific target and did not directly impact critical infrastructure of the Internet itself. But this is a cautionary tale, from which lessons for the future must be learnt. An attack of this scale targeting multiple regions and institutions is very much possible and that then may well have a devastating ripple effect across the entire Internet.