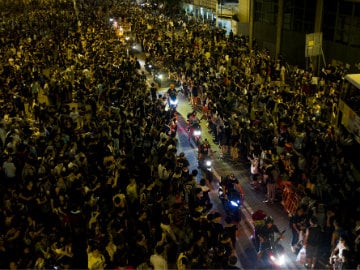 Hong Kong:
Fresh scuffles broke out on Saturday between Hong Kong pro-democracy protesters and opponents of the week-long demonstrations, reigniting concerns that the Chinese-controlled city's worst unrest in decades could take a violent turn.
The protests have been largely peaceful since they began a week ago, when tens of thousands flooded the streets demanding Beijing grant Hong Kong the unfettered right to choose its own leader. But the mood turned ugly on Friday night at the most volatile protest site, in the teeming suburb of Mong Kok where some criminal gangs are suspected by police to be based.
Police intervened to prevent a violent escalation, but a rowdy crowd of around 2,000 filled a major intersection in the small hours of Saturday and the atmosphere was highly charged as police officers in riot gear tried to keep them under control.
Crowds swelled again in the area on Saturday as day broke, but no uniformed police could be seen. At times over the past week, police have left the streets, saying they wanted to ease tensions, though the reason for their apparent absence from this scene on Saturday morning was unclear.
Police said they had arrested 19 men during the scuffles, with local state-owned broadcaster RTHK saying eight of them were suspected members of Triads, or Chinese criminal gangs. Eighteen people were injured, including six police officers, according to the RTHK report.
Demonstrations across Hong Kong have ebbed and flowed since last Sunday, when police used pepper spray, tear gas and batons to break them up in the worst unrest in Hong Kong since the former British colony was handed back to Chinese rule in 1997.
At times, tens of thousands of people gathered to block roads and buildings in central areas, bringing them to a virtual standstill.
Student activists, established protest groups and ordinary Hong Kongers have joined forces to present Beijing with one of its biggest political challenges since it violently crushed pro-democracy protests in and around Tiananmen Square in 1989.
One of the main student groups behind the "Occupy Central" protest movement said it would pull out of planned talks with the Hong Kong government, because it believed authorities had colluded in the attacks on demonstrators in Mong Kok.
"The government and police today connived in the attack by Triads ... on peaceful occupiers, so they have shut the way to dialogue and must bear the consequences," the Hong Kong Federation of Students said in a strongly worded statement.
The notorious Triads operate bars, nightclubs and massage parlours across Mong Kok, an area of high-rise apartment blocks some distance from the main protest areas.
Witnesses said anti-Triad police wearing trademark black vests were active in the area on Friday.
Police have defended their handling of fighting in the area, saying they had exercised "dignity and restraint and tried our best to keep the situation under control".
But Amnesty International issued a statement criticising them for "(failing) in their duty to protect hundreds of peaceful pro-democracy protesters from attacks by counter demonstrators."
"NO PAIN, NO GAIN"
Earlier this week, Hong Kong's leader Leung Chun-ying rejected protesters' demands to resign, and he and his Chinese government allies made clear they would not back down.
He did, however, offer talks with leaders of a movement that has shaken Hong Kong's image as a stable financial hub.
Kit Lui, a 32-year-old restaurant owner sitting under a tent in the middle of the Mong Kok crowd, said she understood why people blamed protesters for harming the economy, but that it was a price worth paying.
"No pain, no gain," she said. "Yes, maybe these few days the economy will be hurt, but if we don't speak up this time the situation will get worse and worse. It's not the future that we want to see. We are worried about our future.
"Frankly speaking, I don't know where this revolution will go," she added, reflecting growing uncertainty among the pro-democracy movement, as numbers at some protest sites dwindle and public displeasure with the demonstrations mounts.
Teacher Victor Ma, 42, summed up the mood of many residents: "We are all fed up and our lives are affected. You don't hold Hong Kong citizens hostage because it's not going to work. That's why the crowd is very angry here."
China rules Hong Kong through a "one country, two systems" formula underpinned by the Basic Law, which accords Hong Kong some autonomy and freedoms not enjoyed on the mainland and has universal suffrage as an eventual goal.
But Beijing decreed on Aug. 31 it would vet candidates who want to run for chief executive at an election in 2017, angering democracy activists, who took to the streets.
While Leung made an apparent concession by offering talks, Beijing restated its resolute opposition to the protests and a completely free vote in Hong Kong.
Facing separatist unrest in far-flung and resource-rich Tibet and Xinjiang, Beijing is unlikely to give way in Hong Kong, fearful that calls for democracy there could spread to the mainland, especially if successful.
© Thomson Reuters 2014