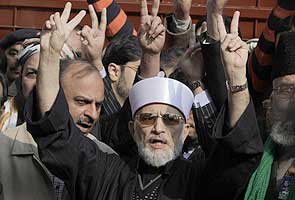 New Delhi:
Mohd Tahir-ul-Qadri, the Canada-based cleric who has put Pakistan's Asif Ali Zardari-led government on notice, was in India last year for about a month.
Dr Qadri, 62, who suddenly surfaced in Pakistan a few weeks ago to demand electoral reforms, the dissolution of Pakistan's assemblies and the resignation of what he calls a "corrupt government", has been compared with India's 75-year-old Gandhian anti-corruption activist Anna Hazare.
The cleric released a book he has written, "Fatwa on terrorism", at the New Delhi-based Indian Islamic Centre on February 22, 2012. He was invited to India by the Minhaj-ul-Quran International, an organization that propagates Sufi learning.
In New Delhi, Mr Qadri told a large audience that the use of words like "Islamic terror" only strengthened the hands of a section that, he said, propagated violence and terrorism. Terrorism, he said, was a criminal act and should not be linked to any religion.
The cleric also visited Baroda in Gujarat and delivered a lecture on Islam there, sources told NDTV.
Dr Qadri has lived in Canada for about a decade and is a citizen of that country. He was born in Pakistan's Jhang area near Faislabad.
In Islamabad, Dr Qadri has led thousands of anti-government protesters in protest marches towards the country's Parliament in the last four days. The crowds have thinned since the first day, but the cleric's fire hasn't dimmed. On Wednesday, he once gain addressed his supporters for four hours from inside a bulletproof vehicle parked several hundred metres from Parliament.
The cleric has emphatically dismissed speculation that he is being fronted by Pakistan's powerful army to prevent the Zardari government from finishing its term. In two months' time, this will become the first ever democratically elected government to complete its term - if it is allowed to. He has, however, said, "I greet the armed forces of Pakistan who were blamed for not letting the civilian government perform. The Pakistan army and judiciary have not interfered in the political situation. The government have had their hands free for five years and yet failed to deliver. Now again, through sham elections, dishonest politicians will again get into parliament to rule the country. The whole nation has come out on the streets to stop them. Enough is enough. Now there is no room for dishonest people, and honest people will come into the assemblies."
Various senior ministers in Pakistan have dismissed Mr Qadri as a nobody, but his long line of supporters purposefully marching in Islamabad for four days now is difficult to ignore. Mr Zardari said on Wednesday that there would be no operation against the participants of Mr Qadri's long march. Interior Minister Rehman Malik said he hoped Dr Qadri and his followers would remain peaceful.
Foreign Minister Hina Rabbani Khar said, "When we are two months away from the first democratic transition in Pakistan's history in 60 years and this person uprise from you know a far away land and says that you know dissolve the Parliament. So who has the right to dissolve the Parliament and who has the right to say that?"
Dr Qadri has emerged at a time when there is deep crisis for the Pakistan government as it continues its tussle with a military and judiciary hostile to it. The country's Supreme Court has ordered the arrest of Prime Minister Raja Pervez Ashraf in a corruption case, but senior ministers in Pakistan are citing the vagueness of the court's order as a reason for putting off any action for now as they buy time.
(With inputs from agencies)