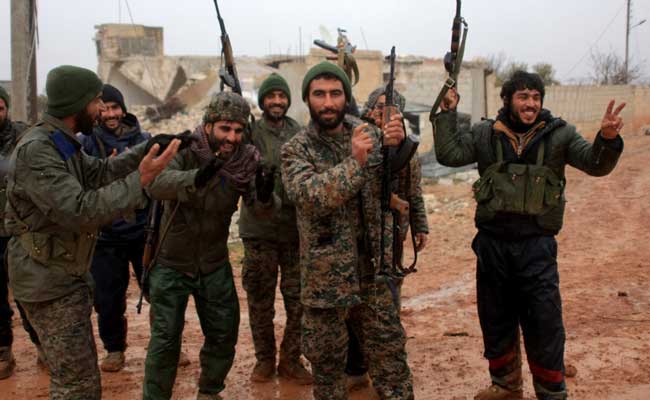 Beirut, Lebanon:
Syrian rebels have withdrawn from three villages threatened by Russian strikes in the northern province of Aleppo that borders Turkey, allowing Kurdish fighters to overrun them, a monitor said today.
The Syrian Observatory for Human Rights said the rebels abandoned the villages of Aqlamiyah, Deir Jamal and Mareanar on Sunday at the insistence of residents who feared their homes would be bombed.
That enabled the Kurdish People's Protection Units (YPG) to move in to seize the three villages, in another setback for the rebels only days after they lost three nearby towns to the Kurds.
Aqlamiyah and Mareanar lie near the strategic Minnigh military airbase, held by rebel groups since August 2013.
Opposition factions north of Syria's second city Aleppo have been increasingly stuck "between the pincers" of YPG forces on one side and pro-government fighters on the other, a military source told AFP.
After some clashes between rebels and the YPG, residents pressured rebels in some villages to hand over control to the Kurds so that Russian warplanes would not target their homes, Observatory head Rami Abdel Rahman said.
Since September, the Russian air force has been carrying out strikes against groups of fighters opposed to Syrian President Bashar al-Assad.
Its aerial campaign has intensified in recent weeks in Aleppo province, allowing government and allied forces to make significant gains while forcing tens of thousands of Syrians to flee to the border with Turkey.
The government has set its sights on Tal Rifaat, a rebel bastion in northern Aleppo that lies 20 kilometres (12 miles) south of the frontier.
Late Sunday night, regime forces seized control of Bakfeen, a village just five kilometres south of Tal Rifaat.
"Regime forces are advancing towards the north to seize control of Tal Rifaat, then Azaz, in a bid to reach the Turkish border and to stop fighters and weapons from entering Syria," said Abdel Rahman.
The government's week-long offensive in Aleppo province has secured key gains.
It broke a rebel siege on the villages of Nubol and Zahraa, cut the rebel supply route to the Turkish border and expanded government control to the north of Syria's second city.
Aleppo city, once Syria's commercial hub, is divided between government forces in the west and rebels in the east.
Anti-regime militants are now in control of only one route of the neighbourhoods under their control in the city, but it is regularly bombarded by loyalist forces.