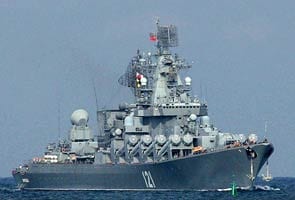 Moscow:
Russia is sending a missile cruiser to the east Mediterranean to take over the navy's operations in the region, said state agency Interfax quoting a military source today. The United States is preparing for a possible military strike in Syria after it claimed that an alleged chemical weapons attack killed more than 1400 people in the country.
President Barack Obama has won backing from key figures in the US Congress in his call for limited strikes on Syria to punish President Bashar al-Assad for his suspected use of chemical weapons against civilians.
The ship, Moskva, will take over operations from a naval unit in the region that Moscow says is needed to protect national interests. It will be joined by a destroyer from Russia's Baltic Fleet and a frigate from the Black Sea Fleet.
"The Cruiser Moskva is heading to the Gibraltar Straits. In approximately 10 days it will enter the east Mediterranean, where it will take over as the flagship of the naval task force," the source said.
Moscow has been Assad's most powerful ally, protecting him from consecutive UN security resolutions aimed at pressuring him to end violence. Russia insists the conflict must be solved through political dialogue in which Assad must take part.
President Vladimir Putin, in an interview released today, did not rule out approving a military operation if clear evidence showed Damascus had carried out the attacks, but said any attack would be illegal without UN support.
Last week, the Defence Ministry said new warships, including the Moskva, were being sent to the Mediterranean but described the movements as routine deployments.
Foreign Minister Sergei Lavrov has said Russia has no intention of getting dragged into any military conflict over Syria.
Earlier this week, Interfax reported that Russia was also sending a reconnaissance ship to the region but that it would operate separately from the naval unit.
© Thomson Reuters 2013