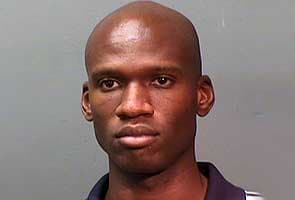 Houston:
Aaron Alexis, 34, the man killed by police officers and identified as the gunman in the deadly rampage at the Washington Navy Yard on Monday, served his country as a Navy reservist, had an abiding interest in Buddhism and Thai culture, and had problems with the law, records and interviews with acquaintances show. (
Read: 12 shot to dead by lone gunman at capital base
)
In 2004, according to a Seattle police report, Alexis walked out of his home one morning, pulled a .45-caliber pistol from his waistband and fired three rounds at a construction worker's car, two at the rear tires and one into the air.
A construction manager told the police he thought Alexis was frustrated with the parking situation outside the work site. But Alexis told the police that he had an anger-fueled blackout and could not remember firing the weapon until about an hour after the episode. He said he was in New York during the attacks of Sept. 11, 2001, and described to an officer "how those events had disturbed him," according to the officer's report.
His father told the officer that Alexis had problems associated with post-traumatic stress disorder, and had been an "active participant" in rescue attempts on September 11.
Law enforcement officials said the motive behind the Navy Yard shooting remained unclear.
Alexis was born in Queens in 1979 and was representative of borough's diversity. He was African-American; grew up in a part of Queens that was home to South Asians, Hispanics and Orthodox Jews; and had embraced all things Thai while living in Fort Worth, Texas, his last known residence. He worked as a waiter at a Thai restaurant, learned the language and regularly chanted and meditated at Buddhist temples.
For nearly four years from 2007 to 2011, Alexis was a full-time reservist in the Navy, serving as an aviation electrician and achieving the rank of mate third class. For much of that time, from February 2008 to January 2011, when he left the service, he was assigned to the Fleet Logistics Support Squadron 46, in Fort Worth, Navy officials said. His specialty was fixing electrical systems on airplanes.
Navy Secretary Ray Mabus said on CNN that Alexis was in "the ready reserve," meaning he did not have day-to-day contact with the Navy, but, if called upon, "he would be one of the ones mobilized." Alexis was awarded the National Defense Service Medal and the Global War on Terrorism Service Medal, two standard military honors, but there were indications that he struggled in the Navy. During his time in the service, he had exhibited "a pattern of misbehavior," Navy officials said, though they declined to elaborate.
Officials were still poring over records to determine the cause of his discharge. Upon leaving, he became a Navy contractor. Hewlett-Packard said in a statement that he was working for one of its subcontractors at the time of the shooting.
On Sept. 4, 2010, Alexis was arrested in Fort Worth for discharging a firearm. At the time, Alexis had been living in an apartment complex called Orion at Oak Hill. His upstairs neighbor called the police after she heard a pop, saw dust fly and noticed a hole in her floor and on her ceiling. The woman who lived in the apartment told the police that Alexis had confronted her in the parking lot about making too much noise, and she felt threatened by him, according to the Fort Worth police report.
Alexis later told an officer that he had been cleaning his gun while cooking, his hands had become slippery and the gun had accidentally discharged. The officer asked him why he did not call the police or check on the resident above him, and he replied that he did not think the bullet went through because he could not see any light through the hole, according to the report. The officer noted that the gun was taken apart and covered in oil.
In recent years, Alexis dated a Thai woman and began showing up regularly at Wat Busayadhammavanara, a Buddhist Temple in White Settlement, Texas He had Thai friends back in Fort Worth - and adored Thai food - and said he always felt drawn to the culture, said Pat Pundisto, a member of the temple answering the phone there Monday afternoon. He was a regular at Sunday services, intoning Buddhist chants and staying to meditate afterwards. On celebrations like the Thai New Year in April, he helped out, serving guests dressed in ceremonial Thai garb the temple provided.
At the temple, he met Nutpisit Suthamtewakul, who went on to open Happy Bowl Thai, a casual restaurant in White Settlement in 2011, said the restaurant owner's cousin, Naree Wilton, 51, in a phone interview. Alexis helped out at the restaurant for two years in exchange for bowls of massaman curry and fried rice with shrimp, and for a room in Suthamtewakul's house.
He was an able waiter, if slow. His walk was sluggish because of what he said was a leg injury he suffered during his naval service, Wilton said.
When not at work, he played computer games "at the nighttime and all day," Wilton said, on one of three computers he kept in his room, driving up the house's electricity bills. After he got a job fixing computers, the family asked him to start helping out with utility bills. He rarely paid and borrowed money often, Wilton said, complaining that his computer company was withholding pay. "I know he lie a lot," Wilton said.
At a Buddhist temple in Keller, about 20 miles north of Fort Worth, Alexis attended the noon service. The temple's secretary, Jason Lom, said Alexis told him that he lived nearby and had a Thai girlfriend. Lom said that Alexis seemed friendly, but he did not know anyone at the temple, which mostly draws worshippers from Thailand, Vietnam and Laos and is called the Wat Buddharatanaram temple.
© 2013, The New York Times News Service