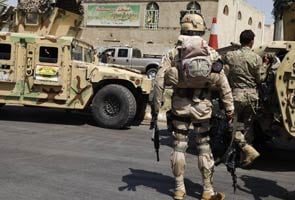 Baghdad:
A suicide bomber struck a Sunni funeral in Baghdad on Sunday, killing at least 12 people, Iraqi officials said, a day after blasts targeting Shiite mourners killed more than 70.
Major attacks have alternatively hit Sunnis, Shiites, and then Sunnis again over the past three days.
Iraq was ravaged by bloody Sunni-Shiite violence that peaked in 2006-2007 and killed thousands of people, and there are persistent fears of a return to all-out sectarian conflict.
The suicide bombing in the Dura area of south Baghdad hit a funeral tent for a Sunni man who had been shot dead three days before, and also wounded 46 people.
On Saturday, two bombings targeted people mourning a tribal sheikh in Sadr City, a Shiite district of north Baghdad, killing at least 73 and wounding more than 200.
And on Friday, two bombs exploded in a Sunni mosque near Samarra, north of Baghdad, killing 18 and wounding 21.
The United Nations had warned against revenge attacks for the Sadr City bombings.
"Retaliation can only bring more violence and it is the responsibility of all leaders to take strong action not to let violence escalate further," Gyorgy Busztin, the UN chief's deputy special representative for Iraq, said in a statement.
"Attacks like these are perpetrated by a small minority of terrorists who wish to destabilise Iraq," the British embassy said of the Sadr City blasts.
It called on "all political, religious and community leaders to unite against those who perpetrate these crimes".
Mourners placed coffins containing the bodies of victims of the Sadr City bombings atop vehicles for transport to Najaf on Sunday for burial near the shrine of Imam Ali, one of the holiest sites in Shiite Islam.
A bare metal frame was all that remained of a large funeral tent at the scene of the explosions. Debris including broken plastic furniture and bottles of water distributed to mourners littered the ground.
Eighteen more people died in other violence on Saturday, including 11 members of the security forces, and four people shot dead at a Baghdad alcohol shop.
It was the United Nations' International Day of Peace, which calls for a "complete global cessation of hostilities for one day".
Saturday was Iraq's second-deadliest day this year, topped only by April 23, when 95 people were killed.
In other violence on Sunday, attacks in Nineveh province in Iraq's north killed two police and a soldier and wounded seven people.
And in the northern city of Kirkuk, a suicide bomber blew up a vehicle near the home of a Christian MP, wounding 47 people including three of the lawmaker's children.
Violence in Iraq has reached a level this year not seen since 2008, a surge in unrest that authorities have so far failed to stem.
With the latest violence, more than 580 people have been killed this month and over 4,400 since the beginning of the year, according to AFP figures based on security and medical sources.
In addition to major security problems, the Iraqi government has also failed to provide adequate basic services such as electricity and clean water, and corruption is widespread.
Political squabbling has paralysed the government, which has passed almost no major legislation in years.