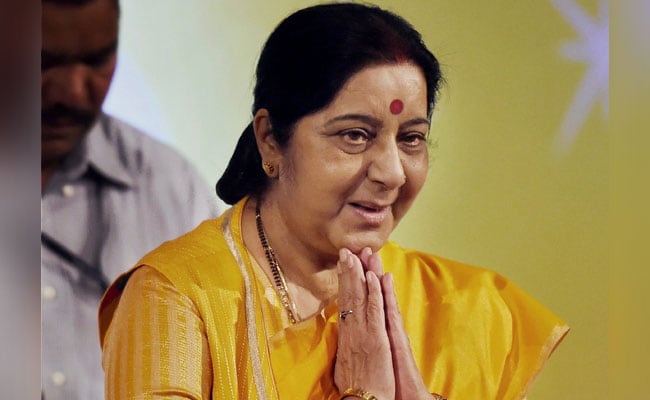 Colombo:
Sri Lanka today welcomed External Affairs Minister Sushma Swaraj's visit to the nation to attend two day Indian Ocean Conference from tomorrow.
India Foundation, a Delhi-based think tank, will host the Indian Ocean Conference 2017 (IOC) in collaboration with Rajaratnam School of International Studies (RSIS), Singapore, and National Institute of Fundamental Studies (NIFS), Colombo -- both research and study centres -- and the theme of the conference is peace, progress and prosperity. It will see participation from around 35 countries.
"We will be very pleased to have the presence of the Indian foreign minister," Sri Lankan foreign Minister Thilak Marapona said.
"The conference will be all about what is going to happen in the Indian Ocean region in the future. We want to develop the Indian Ocean into an area where peace will prevail and all countries will benefit," the minister said.
Sri Lanka is expected to discuss strategies of combating drug smuggling in the two-day conference, Mr Marapona said.
According to the Sri Lankan Foreign Ministry officials, Indian Foreign Secretary, S Jaishankar is also expected to attend the conference. Peace, progress and prosperity will be theme at the event, Law and Order Minister Sagala Ratnayake said.
"For Sri Lanka drugs is one of the main concerns. Sri Lanka is a transit point for drug dealing," Mr Ratnayake said. "We hope to carry forward this dialogue," he said. Mr Ratnayake also said Indian Railway Minister Suresh Prabhu, who is the director of the India Foundation, is also expected to attend the conference.
The conference will be inaugurated by Seychelles Vice-President Vincent Meriton, Sri Lankan Prime Minister Ranil Wickremesinghe, Singapore Foreign Affairs Minister Vivian Balakrishnan besides Ms Swaraj.