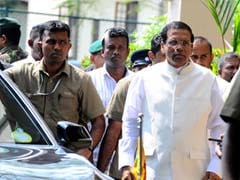 Colombo:
Sri Lanka's new president has replaced an ex-military with a civilian governor in the Tamil-controlled north in a sign of improving ties with the ethnic minority following the end of the civil war.
The Tamil-controlled provincial administration of the Northern Province has long accused the outgoing governor, retired Major General GA Chandrasiri, of preventing them from functioning freely and running a parallel local government.
President Maithripala Sirisena, who defeated a hardline incumbent in January elections, announced the appointment of HMGS Palihakkara as a new governor on his website Wednesday.
Sri Lankan troops defeated Tamil separatist rebels in 2009 after a 25-year civil war, but the government has not fulfilled its promise for regional autonomy.