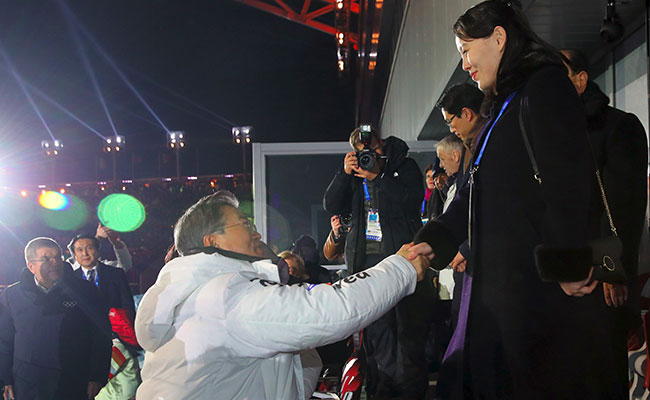 Seoul/Pyeongchang, South Korea:
South Korean President Moon Jae-in met North Korean leader Kim Jong Un's sister on Saturday, hoping to translate Olympics detente into meaningful progress towards resolving a tense standoff over the North's nuclear and missile programmes.
Moon hosted talks and a lunch with Kim Yo Jong, the younger sister of the North Korean leader, at the presidential Blue House in Seoul.
Kim Yo Jong flew in to the South on her brother's private jet on Friday before she and other North Korean officials attended the opening ceremony of the Winter Olympics in the alpine resort town of Pyeongchang.
Moon and Kim Yo Jong had their first face-to-face encounter at the opening ceremony. They shook hands and cheered for athletes from the two countries who marched under a unified peninsula flag for the first time in a decade.
Kim Yo Jong is the first member of the ruling Kim family bearing the bloodline of the sacred Mount Paektu, a centrepiece of the North's idolisation and propaganda campaign, to cross the border into the South since the 1950-53 Korean War.
The 28-year-old is a crucial part of the North's Games delegation led by Kim Yong Nam, North Korea's nominal head of state.
She shook hands with Moon and smiled faintly as the South Korean leader entered a meeting room at the Blue House on Saturday.
"I appreciate you stayed late out in the cold, are you all well?" Moon asked the delegation, before reporters were ushered from the room.
VIOLENT HISTORY
The two Koreas have a rocky and sometimes violent history at the Blue House. In January 1968, Kim Yo Jong's grandfather, founding North Korean president Kim Il Sung, sent a squad of North Korean commandos to Seoul who tried unsuccessfully to kill then-president Park Chung-hee.
Although Kim Yo Jong ranks diplomatically lower than Kim Yong Nam, as Kim Jong Un's sister she is considered more important in North Korea.
"By virtue of her family ties, Kim is among the most credible interlocutors that North Korea could have sent," said Christopher Green, a senior adviser on Korean affairs at the International Crisis Group think tank.
"If there is a message to be conveyed to South Korea or the U.S., she is amply well positioned to convey it," he said.
Kim Yo Jong cuts a contrasting figure to her brother in North Korea's formal and tightly controlled state propaganda.
Rather than stand nervously around Kim Jong Un on visits to official factories, she has moved to the front of media photos more recently, giggling, assisting her brother at state events or collecting flowers presented to him by young children.
She is also a vice director of the ruling Workers' Party's Propaganda and Agitation Department, which oversees and directs state censorship and propaganda.
It was that position which led the U.S. Treasury Department to blacklist her last year for censorship and "severe human rights abuses".
The young North Korean leader and his sister were favourites of their father, who ruled North Korea from 1994-2011. Kim Jong Il's sushi chef, Kenji Fujimoto, nicknamed them North Korea's "Prince" and "Princess" because of their upbringing and closeness to the former North Korean leader.
(Reporting by Hyonhee Shin in SEOUL and James Pearson in PYEONGCHANG in South Korea; Additional reporting by Soyoung Kim in PYEONGCHANG; Editing by Lincoln Feast and Paul Tait)
© Thomson Reuters 2018
(Except for the headline, this story has not been edited by NDTV staff and is published from a syndicated feed.)