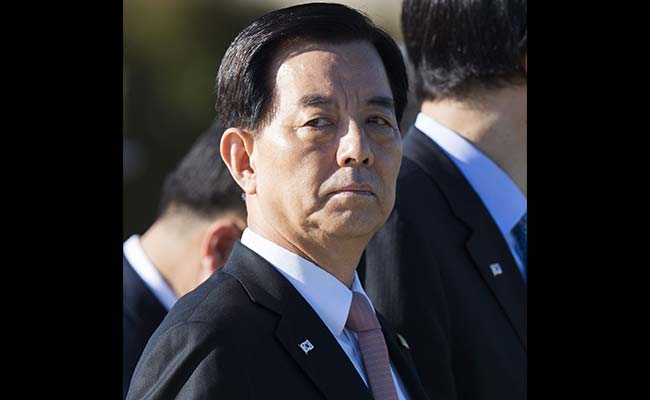 Seoul, South Korea:
The defence ministers of South Korea and Japan will meet in Seoul next week, officials announced today a further sign of improvements in the troubled relationship between the two US military allies.
South Korea's Han Min-Koo and his Japanese counterpart Gen Nakatani will hold talks on Tuesday ahead of a trilateral leadership dialogue involving the two countries and China, the defence ministry in Seoul said.
The two men last met in Singapore in May for what was the first bilateral defence ministry dialogue in four years.
Relations have been clouded by sensitive, historical disputes related to Japan's 1910-45 colonial rule over the Korean peninsula and, in particular, the issue of Korean "comfort women" forcibly recruited to work in Japanese wartime military brothels.
Since taking office in February 2013, South Korean President Park Geun-Hye has refused to meet Japanese Prime Minister Shinzo Abe, arguing that Tokyo has yet to properly atone for abuses carried out during the colonial period.
The rift has frustrated Washington, which would prefer its two key Asian military allies to focus together on containing an increasingly assertive China.
The announcement of the defence meeting is the latest in a series of steps the two sides have taken towards a tentative public rapprochement, although military cooperation was never suspended even when ties were at their lowest ebb.
According to the South Korean Defence Ministry, Han and Nakatani will focus on cooperation in the face of North Korea's nuclear threats.
Nakatani will also brief Han on the recent passage of new laws broadening the role of the Japanese military legislation that has caused some consternation in Seoul.
"It is our basic stance that Japanese military activities affecting the security on the Korean peninsula and our national interests won't be permitted", a defence ministry official was quoted as saying by the Yonhap news agency.
Park Geun-Hye is currently on a US visit and in Washington on Thursday she said she would be open to the long-avoided summit with Abe.
The sit-down could come in the next few weeks, with Park and Abe scheduled to gather in Seoul for a trilateral leadership dialogue involving Chinese Premier Li Keqiang.
Such three-way meets, initiated in 2008, were held annually until 2012 when they were suspended after Seoul-Tokyo relations went into one of their regular tail-spins.