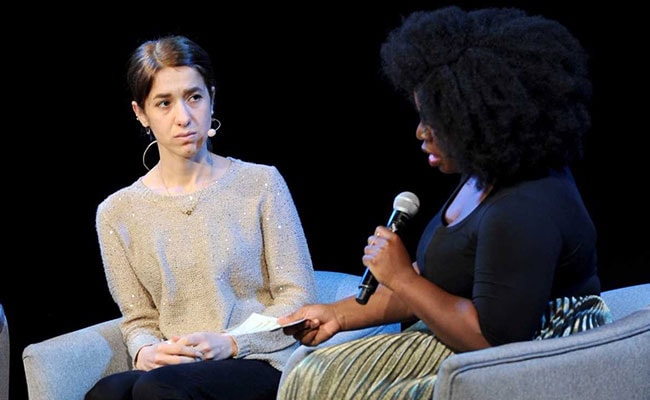 Highlights
Nadia Murad, a slave who escaped ISIS, has launched a book
The book is part of her effort to bring ISIS members to justice
It tells the stories of Yazidis who were killed and kidnapped by ISIS
Islamic State militants have lost the last of their strongholds, but for Yazidi survivor Nadia Murad, a new battle is just beginning.
Three years after escaping militants in northern Iraq, Murad is unveiling a harrowing memoir, "The Last Girl," about her ordeal as a sex slave.
Murad's disturbing personal account is part of her effort, represented by human rights lawyer Amal Clooney, to bring Islamic State members to justice for war crimes and genocide against the Yazidi people.
"This is not something I chose," Murad, 24, said in an interview in the lounge of a posh London hotel. "Somebody had to tell these stories. It's not easy."
When the Islamic State swept into northern Iraq in 2014, thousands of Yazidis were killed and thousands more were kidnapped, including women and girls who were taken as sex slaves. U.N. officials have said the violence committed against the minority sect constituted a genocide, and the U.N. Security Council has created a task force to collect evidence of atrocities in Iraq.
Murad became the first U.N. goodwill ambassador for survivors of human trafficking in 2016, and is pressing her concerns about thousands of Yazidi women and girls who may still be captives and survivors she hopes will be moved from camps and resettled.
"The goal of this book is to make sure that everyone knows what happened to the Yazidis and how they suffered," Murad said. "There are other survivors who dream that one day they will testify about what (ISIS) did to them. Our stories can make a difference."
When the war began, Murad was a student living a quiet life in the village of Kocho in northern Iraq.
"Everyone was poor," she said. "We were satisfied with a life that was simple and humble. We were a peaceful, open people."
The militants arrived in Kocho in August 2014 and ordered everyone to the schoolhouse. The men were then forced to leave, and gunfire soon rang out. Scores of men were killed, including six of Murad's brothers.
Murad was put on a bus with other young women, relatives and neighbors, and ISIS fighters began groping the women. One fighter put his hand down her shirt and tried to do "things that happen between lovers when they get married." ISIS gunmen took away Murad's mother to be killed. They set an elderly woman on fire.
Murad and the other young women were taken to the home of a wealthy family in the city of Mosul, where crowds of men grabbed at them.
One man extinguished a cigarette on Murad's stomach. Another man chose three women, paying for them in U.S. dollars. The rest were offered up at a chaotic slave market, and Murad was dragged off by the first of her tormentors.
"I put the details in the book so I don't have to tell the story every time," she said forlornly.
The Islamic State leadership created a self-styled "religious" rationale to justify the sexual abuse of Yazidi women, and girls as young as 9.
Some Yazidi women took their own lives.
Murad was gang-raped as punishment for trying to escape.
"What gave me strength was the hundreds, if not thousands, of girls in captivity," Murad said. "I told myself, we will be able to survive this."
One day an Islamic State gunman left her alone in a house, and Murad found an unlocked door. She stepped out into the courtyard, climbed the wall and dropped down into an empty street, terrified.
"It wasn't about courage," she said. "You're scared of being put to death, or tortured. All you think about is how to survive."
Murad walked swiftly through the darkening streets of Mosul, her face covered by a long veil. She banged on the door of a house and begged for help.
The family inside let her in and eventually smuggled her out of ISIS territory, passing her off as the wife of one of the men. As they went through the last checkpoint, she spotted her photo on a flier showing wanted escapees.
Murad made her way to a refugee camp and was accepted as a refugee to Germany in 2015. She now lives with her sister, a war widow, in an apartment in Stuttgart.
Murad is still haunted by the failure of people in Mosul to help more Yazidi women.
"There were 2 million civilians in Mosul and 2,000 kidnapped girls there," she said. "There were thousands of families in Mosul that could have helped other girls, but they didn't. Women had to wear veils in Mosul. It would have been easy to smuggle Yazidi women out."
Many of those who did help smuggle Yazidis demanded thousands of dollars - her sister-in-law's family paid $20,000 to get her to safety, Murad said.
Last summer, Murad returned to her hometown for a hero's welcome, and tears streamed down her face as she entered her family's destroyed home.
"We hoped that our fate would be like the men and we would be killed, but instead Europeans, Saudis, Tunisians and other fighters came and raped us and sold us," she said, in an improvised speech that was videotaped by news reporters.
Murad hopes that someday she will "look the men who raped me in the eye and see them brought to justice," and will be "the last girl with a with a story like mine."
She has another ambition: She wants to become a makeup artist and hairdresser, or even open her own salon - a place that traditionally serves as a haven for women.
"Maybe people will remember me for being a stylist, not a survivor" of ISIS, she said. "They'll forget that."
(This story has not been edited by NDTV staff and is auto-generated from a syndicated feed.)