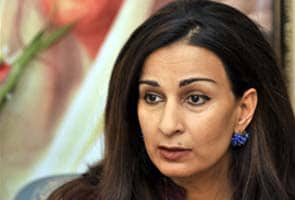 Islamabad:
Former Information Minister Sherry Rehman has been named Pakistan's new Ambassador to the US.
The move comes after Husain Haqqani resigned from the post after reports linking him to a controversial secret memorandum purportedly sent by the Pakistan government to the Obama administration earlier this year to avert a possible military takeover.
In a post on micro-blogging site Twitter, Mr Haqqani wrote, "I have requested PM Gilani to accept my resignation as Pakistan Ambassador to US.
"I have much to contribute to building a new Pakistan free of bigotry & intolerance. Will focus energies on that," he further tweeted.
A close aide of slain ex-premier Benazir Bhutto, Ms Rehman was sidelined by the ruling Pakistan People's Party (PPP) after she quit the government in 2009. She had resigned following differences with top party leaders, including President Asif Ali Zardari, over the government's handling of relations with the media.
She has been playing a key role on foreign policy issues, including relations with Afghanistan and India, through her NGO, Jinnah Institute, and had rebuilt her relations with the party leadership over the past few months.
The memorandum, which landed Mr Haqqani at the center of a huge controversy, warned of and sought assistance against a possible military takeover after Osama bin Laden was killed in May. It was sent to the then US Chief of Military Staff Admiral Mike Mullen.
Pakistani-American businessman Mansoor Ijaz, who broke what is now known as the "Memogate" story, has claimed that he drafted the secret memo on Mr Haqqani's instructions. The former envoy has consistently denied this claim.
The memorandum had pitted Pakistan's civilian government against the powerful military, with the latter asking for a complete investigation and Mr Haqqani's recall from Washington.
The businessman had spoken exclusively to NDTV about the matter and maintained that Mr Haqqani reached out to him saying he is a "plausibly deniable channel" for them.
"Credibility is in the eye of the beholder. I was like a typist," Mr Ijaz said.
Asked whether President Zardari knew about the memo, Mr Ijaz had said, "It's a sixty-four-thousand dollar question". He added, "There's no question that Haqqani is in trouble. There's no question that Zardari has a lot of answers to give".
A report in Newsweek said that last month, Mr Ijaz spent over four hours with the lSI chief Shuja Pasha in London. The ISI chief sought the meeting to go over the businessman's evidence against Mr Haqqani, the report said.
Former US National Security Advisor Jim Jones has said that he was the person who handed over the memorandum to the then Chief of Military Staff Admiral Mike Mullen.
However, Mr Jones said he was neither a serving US government official or associated with the Obama administration in any way when he delivered the memo to Mullen in May this year. He was the NSA of President Barack Obama from January 2009 to October 2010.
For India, the memo stands out for a sub-point saying Pakistan's government - under a new national security team - is prepared to fully cooperate with the Indian government on 26/11 investigations and bringing to justice all perpetrators within or outside the government, including intelligence agencies. "This includes handing over those against whom sufficient evidence exists of guilt to the Indian security services."
Elaborating on the reference in the memo to President Zardari's readiness to hand over the 26/11 attackers to India, Mr Ijaz told NDTV that this was among several proposals "designed to win the confidence of the US administration."
Mr Haqqani was seen as a close aide of President Zardari and had played a key role in resolving several recent crises in bilateral relations with the US. He has, however, had an uneasy relationship with the military.
(With PTI inputs)