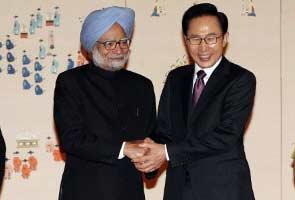 Seoul:
Seeking to enhance ties with South Korea, India today offered to launch a satellite for Seoul and invited its businesses to invest in the country, particularly in the infrastructure sector.
"I offered to launch Korean satellite on Indian space launch vehicle," Prime Minister Manmohan Singh said at a joint press briefing with South Korean President Lee Myung-Bak after bilateral talks.
The two leaders expressed happiness over the increase in the bilateral trade following the signing of Comprehensive Economic Partnership Agreement last year and set a target of achieving USD 40 billion trade by 2015.
Mr Singh also invited South Korean companies to invest in a big way in the infrastructure sector in India.
The two sides also signed an agreement on simplifying visa procedures for the business community.
Mr Singh also sought Seoul's support for India's effort to be a member of the Nuclear Suppliers Group, Australia Group and the Wassenaar Arrangement Singh said India has also decided to post a defence attache at its embassy in Seoul.
The move comes in the wake of South Korea's desire to enhance defence cooperation with India.
Ahead of his talks with President Lee, Mr Singh laid a wreath at the Memorial Tower at the National Cemetery.
Mr Singh arrived here yesterday for a four-day visit to attend a Nuclear Security Summit here. The two-day summit begins tomorrow when world leaders will meet at over dinner.
Tuesday would see packed sessions on the theme 'Beyond Security Towards Peace' where Mr Singh is expected to unveil steps conceived by India to tackle challenges of nuclear terrorism.