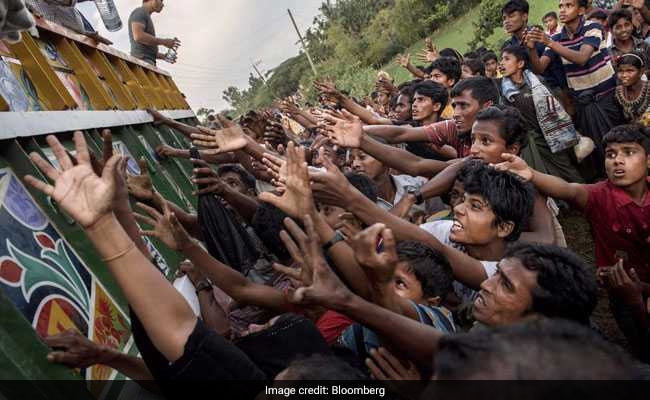 Violence in Myanmar that's pushed nearly 400,000 Muslim refugees into neighboring Bangladesh is threatening to deepen sectarian tensions across the region.
The exodus of Rohingya from Rakhine state has sparked concerns that politicians in countries such as Malaysia, Indonesia, Bangladesh and India could seek to capitalize on public anger over the treatment of a group that's considered stateless in Buddhist-majority Myanmar. There have been vocal rallies in some of those nations in recent days in support of the Rohingya.
Militant group al-Qaeda has also urged Muslims, especially those in Bangladesh, India, Pakistan, and the Philippines to support the Rohingya in Myanmar financially, militarily and physically, according to SITE Intelligence Group.
"The regional security implications of the Rakhine State crisis stem primarily from the risks of sectarian conflict as Muslim communities in Southeast Asia, accounting for almost half the region's population, grow increasingly angry over the treatment of Muslim Rohingya by Buddhist Rakhine," said Michael Vatikiotis, Asia Regional Director for the Centre for Humanitarian Dialogue.
"This sentiment is easily exploited by local political actors in Indonesia and Malaysia, where the rise of identity politics has increased the risk of religious conflict," said Vatikiotis, author of Blood and Silk: Power and Conflict in Modern Southeast Asia. "With over 370,000 recent arrivals in Bangladesh, where access to aid and shelter is challenging, many Rohingya may start to leave on boats and arrive on the shores of Indonesia, Malaysia and Thailand."
The Rohingya could potentially become a domestic issue for Indonesia "as it could trigger a strong reaction from the people," said Hajriyanto Y. Thohari, deputy chairman of the country's second-largest Muslim organization, Muhammadiyah.
In India, Junior Home Minister Kiren Rijiju had previously said the government wanted to deport an estimated 40,000 Rohingya living in India. On Wednesday he tweeted that the Rohingya issue "undermines India's security". The foreign ministry said Thursday it was sending aid to the Bangladesh port city of Chittagong.
"India's airlift of humanitarian assistance to Chittagong today shows India's increasing willingness and capacity to act as a first responder to emergencies in the region," said Constantino Xavier, a fellow with Carnegie India. It also indicates "its preoccupation in stemming the refugee flow in Bangladesh, reducing their incentives to cross the border into India.
Security Trigger
The campaign by Myanmar's security forces was triggered by an August 25 attack by a Rohingya insurgent group, the Arakan Rohingya Salvation Army, which killed a dozen security personnel.
Bangladesh Prime Minister Sheikh Hasina has since allotted thousands of acres for new camps to accommodate the nearly 400,000 Rohingya refugees now residing near the southern border with Myanmar. On Wednesday, Myanmar's leader Aung San Suu Kyi canceled next week's scheduled appearance before the United Nations General Assembly.
Still, "the longer the refugees stay, the less welcoming Bangladesh will be," Sasha Riser-Kositsky, an Asia analyst at Eurasia Group, said by phone from New York.
Myanmar's army said more than 400 Rohingya militants had been killed in the past few weeks, while Bangladesh police inspector Mainuddin Khan said at least 100 people had been found dead in the Naf river that separates Bangladesh and Myanmar. Human rights groups have said most of those killed were civilians.
A report from Amnesty International released overnight found evidence of a "mass-scale scorched-earth campaign" by Myanmar's security forces and vigilante mobs. The group also said soldiers were planting landmines along the northern part of the Bangladesh border on two busy paths used by Rohingya.
Protest Note
Reports of the landmines prompted the foreign ministry in Dhaka to send a protest note to Myanmar Speaking to Bloomberg by phone, Foreign Secretary Shahidul Haque confirmed the existence of the note but would not disclose its content.
United Nations Secretary-General Antonio Guterres told reporters on Wednesday the situation was "catastrophic".
The treatment of the Rohingya in Myanmar has repeatedly generated accusations of mass murder in recent years. Many of the country's 53 million people view the 800,000 Rohingya, who are denied citizenship, as illegal migrants from what is now Bangladesh. Rakhine Muslims constitute the single biggest stateless community in the world.
The international condemnation of Myanmar could yet threaten the flow of international investment into the fast-growing Southeast Asian nation, which saw the U.S. and Europe begin to ease sanctions after the military junta released Suu Kyi from house arrest in 2010.
Foreign investment plunged 30 percent last fiscal year after overseas investors pumped a record $9.5 billion into the economy in the preceding 12 months. The investment shortfall has coincided with concern over the direction of the government's economic agenda.
"A key concern is that Myanmar becomes synonymous with sanctions and human rights violations," said Erin Murphy, founder of Inle Advisory Group and former Special Assistant to the U.S. Government Office of the Special Representative and Policy Coordinator for Myanmar.