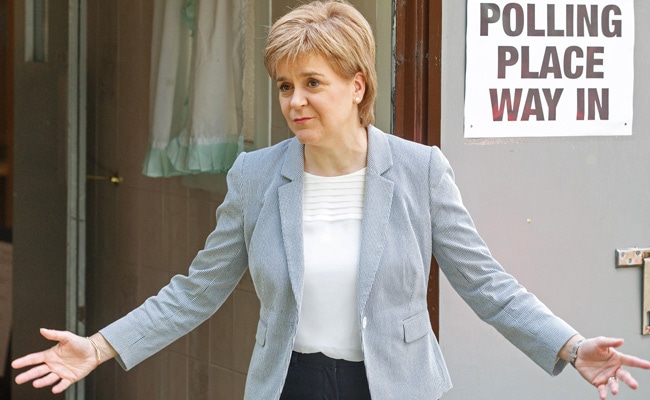 Edinburgh:
Scotland could hold an independence referendum in autumn 2018, just months before the United Kingdom is due to leave the European Union, Scottish First Minister Nicola Sturgeon told the BBC. The prospect of an independence vote in Scotland that could rip apart the United Kingdom just months before an EU exit would add a tumultuous twist to Brexit with uncertain consequences for the world's fifth largest economy.
Scotland's threat of a second independence vote also ups the pressure on Prime Minister Theresa May as she prepares to trigger formal exit negotiations with the other 27 members of the European Union over the United Kingdom's divorce terms.
Ms Sturgeon said autumn 2018 would be a "common sense time" for Scotland to hold another independence referendum, once there is some outline of a deal to exit the European Union.
"Within that window, of when the outline of a UK deal becomes clear and the UK exiting the EU, I think would be common sense time for Scotland to have that choice, if that is the road we choose to go down," Ms Sturgeon, who heads Edinburgh's pro-independence devolved government, told the BBC.
No decision has yet been taken on a date for a vote, she added. Under the United Kingdom's current constitutional conventions, a second independence vote would have to be approved by Ms May's government which has repeatedly argued there is no need for a second ballot.
The results of the June 23 Brexit referendum called the future of the United Kingdom into question because England and Wales voted to leave the EU but Scotland and Northern Ireland voted to stay.
Ms Sturgeon has warned that the Brexit plans of the government in London - in particular Ms May's decision prioritise immigration controls over continued preferential access to the single market - makes another vote on independence necessary on the grounds that circumstances have changed since 2014, when Scots voted 55-45 to stay in the United Kingdom.
The EU's chief negotiator for Brexit, Michel Barnier, has said that an exit agreement with the United Kingdom should be reached by October 2018 though many diplomats and trade negotiators have expressed concern that a comprehensive Brexit deal would be difficult to strike in such a short time.
Ms May is due to trigger formal exit talks by the end of this month though legislation giving her approval to do so is unlikely to clear parliament until mid-March.
Sources close to Ms Sturgeon say Ms May's official notification of withdrawal from the EU is a key milestone, and said no decision on a referendum would be made before she triggered formal talks.
"Common sense would tell you that ... if we are going to become independent, better to do so before we are dragged out of the EU," Stewart Hosie, an SNP lawmaker said.
Scotland has a population of around 5.3 million, according to the last census, slightly more than eight per cent of the United Kingdom's population as a whole. It was an independent kingdom until joining England in the Act of Union in 1707.
Most polls show support for independence in Scotland has barely shifted from around 45 per cent since 2014, and that most Scots do not want another vote on secession.
© Thomson Reuters 2017