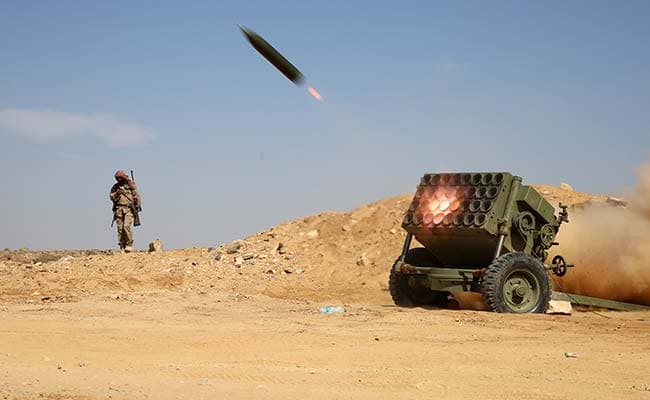 Riyadh:
Saudi Arabia intercepted a missile fired before dawn today from Yemen towards its southern border region, the coalition said, in the latest such attack despite a ceasefire and peace talks.
In a brief statement, the Saudi-led coalition fighting in Yemen since March said air defences stopped the missile from reaching the kingdom's southern Jazan district.
"Air forces immediately destroyed the launch pad inside Yemen," the coalition said.
Saudi Arabia has deployed Patriot missile batteries designed to counter tactical ballistic missiles.
Three civilians, two of them from India, died on Saturday when shellfire from Yemen struck the border city of Najran.
On Friday, the coalition said Saudi air defences intercepted a ballistic missile launched from Yemen and that a second missile struck a desert area east of Najran city.
Those attacks came after a local source reported that on September 13 another missile struck a desert area of the kingdom's south, causing no damage.
All these attacks, as well as fighting on the ground in Yemen, came despite a seven-day ceasefire in conjunction with peace talks in Switzerland.
The talks between Yemen's government and Iran-backed Shiite Huthi rebels concluded on Sunday without a major breakthrough, hours before the latest missile attack.
The head of the Yemeni government negotiating team, Foreign Minister Abdel Malak al-Mekhlafi, said the much-violated ceasefire will be extended for seven days after it officially expires today.
On Friday Saudi Arabia's Border Guard force repeated a warning that residents should stay away from the frontier.
The coalition's warplanes and troops have been supporting forces in Yemen loyal to President Abedrabbo Mansour Hadi against the Huthis and troops loyal to former president Ali Abdullah Saleh.
More than 80 people, most of them soldiers and border guards, have been killed in shelling and cross-border skirmishes in the kingdom's south since coalition operations began in Yemen.