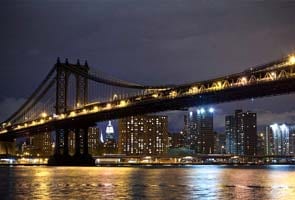 New York:
The lights finally came back on in Manhattan on Saturday, but a severe shortage of gasoline continued to hamper efforts to get the New York area back on its feet after Hurricane Sandy.
Power was restored to nearly all of Manhattan after flooding plunged the lower half of New York's most densely populated borough into darkness.
"By and large there is enough light and activity certainly to get a lot of people out into the street and get rid of that movie set look, as if we're in some sort of ghost town or horror movie," Bob McGee, a spokesman for utility company Con Edison, told NY1 television.
Crews were working to restore supplies both to schools that reopen on Monday and for polling places to be used in Tuesday's presidential election.
Much of the rest of New York, however, continued to experience widespread power outages that could last for as long as another week.
As New Jersey police raised the state's death toll to 22, increasing the overall US total to at least 103, the biggest hurdle to recovery continued to be a severe lack of gasoline.
New Jersey Governor Chris Christie announced rationing of fuel to curtail the long lines and growing frustration outside gas stations.
Starting Saturday, drivers with license plates ending in an even number will be allowed to fill up on even-numbered dates and those with number plates ending in odd numbers plates on odd-number dates.
"This system will ease the strain on those gas stations still operating, while we work to bring more online for the public to access fuel, in a manner that is fair, easy to understand, and less stressful," he said.
New York officials meanwhile announced the deployment of military fuel trucks that will give 10 gallons of gasoline to drivers free of charge.
State Governor Andrew Cuomo said the critical situation should ease rapidly as delays in the arrival of fuel ships had been remedied.
"Eight million gallons of fuel have been delivered," he said. "Twenty eight million gallons will be delivered over the next two days, so you will see quickly an abatement of the pressure on the fuel system."
"You don't have to panic," he added.
Some areas of life in New York were almost back to normal following one of the most damaging storms in US history.
The city subway system was 80 per cent up and running, Cuomo said. The transit authority ended the suspension of fares that had allowed New Yorkers to ride free during the immediate aftermath of the calamity.
However, Sunday's annual New York marathon was abruptly cancelled late Friday after Mayor Michael Bloomberg reversed his earlier position and bowed to public pressure.
Critics said the huge sporting event, to be attended by 47,000 runners from all over the world, would divert police and other resources when hundreds of thousands of New Yorkers were still without heat or light.
Bloomberg relented, saying "we would not want a cloud to hang over the race."
Organizers say that those who were meant to compete this year will be offered spots in next year's race.
Other than getting fuel supplies going, restoring electricity throughout the New York metro area remained a top priority.
Cuomo said 60 per cent of people who lost power in the storm on Monday and Tuesday are now back online. That meant that "less than 900,000" people were left without electricity in the city area, he added.
On Long Island, another 550,000 people were without power, down from 1.2 million people initially.
"We still have a long way to go to make sure that the people of New Jersey, Connecticut, New York and some of the surrounding areas get their basic needs taken care of and we get back to normalcy," President Barack Obama said.