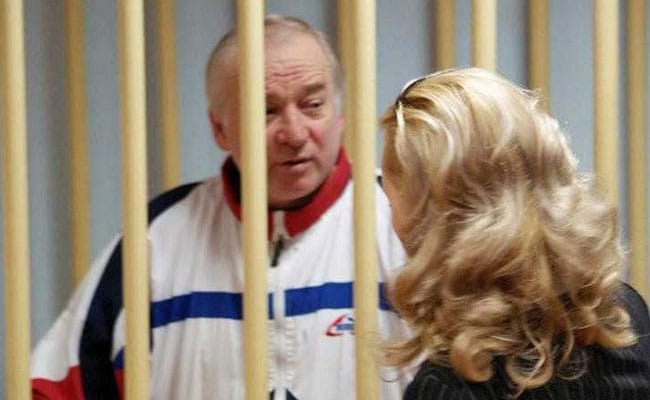 London:
The former Russian spy who was found slumped in an English city after being poisoned is no longer in critical condition and is "improving rapidly", the hospital treating him said Friday.
It was the first news of Sergei Skripal's health improving since the 66-year-old ex-double agent and his daughter Yulia were found poisoned on a bench on March 4 in Salisbury, southwest England.
The affair has sparked a bitter diplomatic crisis between London and Moscow and prompted a wave of tit-for-tat expulsions of diplomats between Russia and the West.
Skripal "is responding well to treatment, improving rapidly and is no longer in a critical condition,"according to Salisbury District Hospital director Christine Blanshard.
As for his daughter, 33, "her strength is growing daily and she can look forward to the day when she is well enough to leave the hospital", Blanshard added.
Britain's interior ministry on Friday rejected a visa application by Sergei Skripal's niece to visit the country, because it "did not comply with the immigration rules", the Home Office said.
Viktoria Skripal told Britain's Sky News television: "I was sure that this would happen.
"They (the British) must have something to hide."
Ongoing Medical Needs
Russia's embassy in London said the decision was "regrettable and worrying" and "doesn't hold water".
Britain blames Russia for the poisoning of the Skripals -- a charge the Kremlin furiously denies.
A British Foreign Office spokesperson praised medical staff continuing to treat the pair and noted they are "likely to have ongoing medical needs".
Its statement added: "This was attempted murder using an illegal chemical weapon that we know Russia possesses."
The first public comments by Yulia Skripal since the poisoning emerged on Thursday.
"My strength is growing daily," she said in a statement released through the police.
Scientists said the Skripals had likely been treated with Atropine -- a drug used to counter the effects of nerve agents -- and marvelled at their partial recovery given the circumstances.
"As far as we know from the literature, there is no specific antidote for Novichok," Ralf Trapp, an expert on chemical weapons, told AFP, referring to a batch of nerve agents allegedly developed by Moscow in the Soviet era.
"What you basically do in such cases is stabilise the life functions of the body -- breathing, heartbeats -- and give Atropine to counter-balance the symptoms, hoping that the body will recover," he added.
Novichok's Disputed Origins
Moscow earlier Friday rejected a British newspaper report that the nerve agent Britain says was used against Skripal came from a military facility on the Volga River.
On Thursday, The Times cited British security sources saying they believed the Novichok nerve agent was manufactured at a facility in the town of Shikhany southeast of Moscow.
"We are aware of claims of this sort by our British colleagues," Russian Foreign Minister Sergei Lavrov told reporters on a visit to Belarus.
"We will not trust in them, we would like to check them but they are not letting us do that."
He accused London of trying "feverishly and convulsively to look for some new confirmation of their absolutely indefensible position".
Russian officials said earlier Friday that no chemical weapons were ever stored at Shikhany, although they stopped short of specifically addressing the claim that Novichok was made there.
"This laboratory was never part of the scope of our work," Mikhail Babich, the Kremlin's envoy in the Volga region and former chairman of the state commission for chemical disarmament, told Interfax news agency.
"All the bases where chemical weapons were stored are well-known. Shikhany is not one of them."
He said there used to be another such facility in the surrounding Saratov region but it was not located in Shikhany.
The Times report came after the British defence laboratory analysing the nerve agent said that it could not say whether the substance came from Russia.
Russian authorities have insisted the country never had any programmes to develop the chemical weapon.
Last month, Russian scientist Leonid Rink told state media he worked for 27 years at a state laboratory in Shikhany, where the development of Novichok formed the basis of his doctoral dissertation.
According to the website of the State Scientific Research Institute of Organic Chemistry and Technology, its branch in Shikhany is involved in work related to "ensuring the security" of the country and destruction of chemical weapons.
In September 2017, Russian President Vladimir Putin said Moscow had destroyed its last chemical weapons.